Our Mission
The declared mission of the Center for Economic Education is to institute a broad based community education program to promote economic literacy primarily in Southeastern region of North Carolina. The Center marshals resources of the University and local community to (a) identify economics education needs in public schools; (b) conduct productive and meaningful programs to fill those needs; and (c) provide leadership, guidance, consultation and economic education resource materials.
Our Goal
Our goal is establish a well planned effective economic education program in every community in Southeastern North Carolina to graduate from high school students who have the ability, competence and confidence to make informed economic choices in their respective roles as consumers, producers, employers, employees, borrowers, lenders, savers, investors, and, above all, as voters. In this important endeavor, the Center in not alone. The Center is affiliated with the National Council on Economic Education and the North Carolina Council on Economic Education.
Update: Change of Leadership
Dr. Inder P. Nijhawan who was the CEE director for at least the past decade has recently retired and is now replaced by Dr. Abdoul Wane. Dr. Abdoul Wane officially took over the CEE reigns in September 1, 2015 though he has been the acting director since February 2015.

Dr. Abdoul Wane received his PhD in Economics from the Department of Economics at Southern Illinois University, Carbondale. He joined FSU in August 2003. He currently teaches Economics courses including principles of Microeconomics and Macroeconomics, Managerial Economics, Statistics and Money and Banking courses. His research interests focus on effects of monetary and fiscal policies on output, Capital Asset Pricing Model (CAPM), and Risks and Returns of emerging Asian stock markets. He has published in several journals including the International Business and Economics Research Journal, Journal of Business and Economics Research, International Journal of Business Research Journal, Midwestern Business and Economic Review, Journal of Financial Education and Journal of finance Case Research. Dr. Wane is proficient in Threshold and Momentum Threshold Autoregressive equation modeling applications, ARCH and GARCH equation modeling and statistical packages such as EVIEWS, RATS, SAS and SPSS. He is a member of the following professional organizations: AEA, AAEA, SSEA, AFS, AEF, AIBE, IABPAD, and WEAI.
Programs and Trainings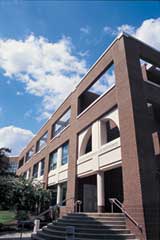 Center for Economic Education
Fayetteville State University
1200 Murchison Road
Fayetteville, NC 28301
Phone: 910.672.1370
Fax: 910.672.2065


Affiliations
The Center is affiliated with the National Council on Economic Education and the North Carolina Council on Economic Education.