Did You Know?
You must maintain at least a 2.5 GPA to be admitted into and retained in teacher education programs. <Read More>
Dean's Greeting
Welcome to the School of Education at Fayetteville State University, where we have maintained continued accreditation from the National Council for Accreditation of Teacher Education (NCATE) since 1954. In fact, the university began its proud history as a teacher's college. Our commitment is to prepare highly qualified teachers and other school personnel through the development, administration, supervision, and evaluation of the programs we offer. The School of Education is home to three departments: Educational Leadership; Elementary Education; and Middle Grades, Secondary, and Specialized Subjects. The 10 BS, 6 M. Ed., the MSA, and the Ed. D programs offered in these departments are designed to prepare professionals who are scholars and facilitators of learning. All teacher education programs are approved by the North Carolina State Board of Education. <Read More>
Of Interest
Faculty Resources
New SOE Administrators
The School of Education welcomes the Associate Dean to our SOE family.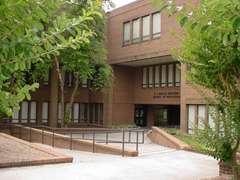 School of Education
Fayetteville State University
1200 Murchison Rd.
Fayetteville, NC 28301
G.L. Butler Building, Room 232
Hours: M-F, 8:00 a.m. - 5:00 p.m.
Phone: (910) 672-1265
Fax: (910) 672-1588
Dr. Leontye L. Lewis, Dean
Ms. Maxine McFayden, Administrative Secretary
Ms. Latonya Leeks, PDS Coordinator for the School of Education interviews Mr. Kamal Watkins, a SOE graduating student.