Fayetteville State University and Edgecombe Community College Partner on $10K Degree Pathway
Date: November 21, 2019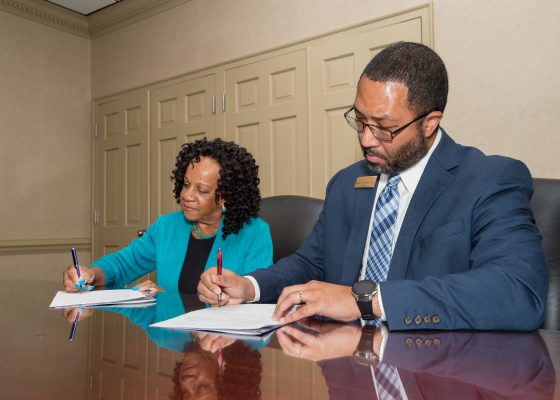 Dr. Greg McLeod, President of Edgecombe Community College (ECC), and Dr. Peggy Valentine, Interim Chancellor of Fayetteville State University, signed an agreement yesterday that permits ECC associate degree graduates to complete an online bachelor's degree at FSU at a total cost of no more than $10,000 in out-of-pocket expenses, or approximately $5,000 at ECC and $5,000 at FSU.
Students eligible for federal and state grants will likely pay less than $10,000 out of pocket.
The $10K Degree Pathway Plan opens the door to affordable bachelor's degrees to ECC graduates in these programs at FSU: Accounting, Birth through Kindergarten (non-teaching), Business Administration (General), Criminal Justice, Fire and Emergency Services Administration, Intelligence Studies, Nursing, Interdisciplinary Studies, Psychology, and Sociology.
The $10K Degree Pathway Plan ensures that our students have access to the resources and support they need to successfully complete their associate degree at ECC as well as their four-year degree at FSU," said Dr. McLeod. "We are very pleased with the opportunities this partnership provides to our students, and we look forward to a strong and long-lasting relationship with FSU."
"We are excited to enter into this partnership with Edgecombe Community College," said Dr. Valentine. "This agreement demonstrates both institutions' commitment to make the cost of a college education attainable and affordable. The FSU family looks forward to serving and working with those students who seek a degree from our institution."
Founded in 1967, Edgecombe Community College is one of the 58 colleges that make up the North Carolina Community College System. With campuses in Tarboro and Rocky Mount, ECC offers education and training programs that lead to associate degrees, diplomas, and certificates. First-rate programs in health care, business and industry, and arts and sciences provide practical skills and prepare students for employment or university transfer. Dr. Greg McLeod became the College's fifth president in August 2018. Learn more about Edgecombe Community College.
Fayetteville State University is a constituent institution of The University of North Carolina and the second-oldest public institution of higher education in the state, having been founded in 1867. FSU offers degrees at the baccalaureate, master's, and doctoral levels. With more than 6,500 students, Fayetteville State University is among the most diverse institutions in the nation. Interim Chancellor Peggy Valentine is the 12th chief executive officer. Learn more about Fayetteville State University.