Fayetteville State University Opens $10K Pathway Plan to Richmond Community College Graduates
Date: August 15, 2018
Fayetteville State University (FSU) and Richmond Community College (RCC) signed an agreement Tuesday that will allow RichmondCC graduates to complete an online bachelor's degree at FSU at a total cost of no more than $10,000 in out-of-pocket expenses.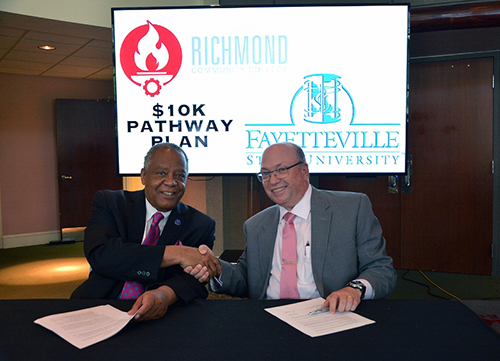 The $10K Pathway Plan opens the door to affordable bachelor's degrees in these online programs at FSU: Accounting, Birth to Kindergarten (non-teaching), Criminal Justice, Fire and Emergency Services Administration, Business Administration (General), Intelligence Studies, Nursing, Professional Studies, Psychology and Sociology. While these degree programs are fully online, FSU will provide regular face-to-face contact with program participants when needed.
Dr. James A. Anderson, FSU chancellor, and Dr. Dale McInnis, president of RichmondCC, signed the agreement during a special ceremony held at the Cole Auditorium.

"By signing this Memorandum of Understanding, President McInnis and I are promising more than affordable tuition; we are also committing ourselves and our institutions to provide the academic advisement, personal support and overall academic environment that will help our students be successful at both institutions," Anderson said.

Anderson noted that $10,000 is a fraction of what a degree costs at many national online education providers.

McInnis said a big challenge for Richmond and Scotland counties is the lack of higher education within its population. According to a report from the NC Department of Commerce, only about 13 percent of the population in Richmond and Scotland County has a bachelor's degree.

"This is an economic development barrier. This is a huge metric that new companies look at when they are considering investing in Richmond and Scotland County," McInnis said. "This is a great partnership with a great university, and we look forward to building upon this relationship with Fayetteville State and the impact it will have on our students and our community."

Anderson said this is the first of three phases of the $10K Degree Pathway Plan as it expands to include other colleges and universities.

"I especially want to thank Dr. McInnis for the being the first NC Community College president to sign on to the $10K Degree Pathway Plan," Anderson said. "We expect other presidents to join us soon, but the fact that President McInnis and RCC are the first demonstrates their profound commitment to putting high quality higher education within the reach of every North Carolinian. We at FSU share this commitment and look forward to working with RCC to make a positive difference in the lives of our students and North Carolina."
Partnerships are also planned with Davidson County Community College, Fayetteville Technical Community College, Guilford Technical Community College, Isothermal Community College, and Vance-Granville Community College.

For more information about Fayetteville State University, including admissions and academic programs, visit www.uncfsu.edu. For more information about RichmondCC and transfer pathways, visit www.richmondcc.edu.

Contact:
Wylie Bell
Director of Marketing and Communications
Richmond Community College
910.410.1826
wdbell@richmondcc.edu