Fayetteville State University Signs $10K Pathway Agreement with Fayetteville Technical Community College
Date: August 21, 2018
Fayetteville State University (FSU) and Fayetteville Technical Community College (FTCC) signed an agreement today that will allow FTCC graduates to complete an online bachelor's degree at FSU at a total cost of no more than $10,000 in out-of-pocket expenses.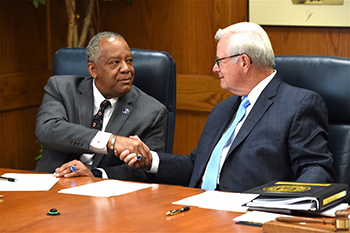 The agreement was signed by FSU Chancellor James Anderson and FTCC President J. Larry Keen during the FTCC Board of Trustees Meeting in the Tony Rand Student Center on the FTCC campus.

The $10K Pathway Plan will provide access to an affordable bachelor's degrees in accounting, birth to kindergarten (non-teaching), criminal justice, fire and emergency services administration, business administration (General), intelligence studies, nursing, professional studies, psychology and sociology. While these degree programs are fully online, FSU will provide regular face-to-face contact with program participants when needed.

"The $10K Pathway Plan represents a brilliant model of partnership, community outreach, and thoughtful engagement within the educational realm to benefit students who pursue a better quality of life through education," Keen said. "Fayetteville State University is steeped in rich history and marked by helping students achieve academic success. Fayetteville Technical Community College opens its doors to all who desire to learn. The two institutions have formed a relationship that provides a smooth, affordable pathway for 2-year college students to earn a four-year online degree with a maximum out-of-pocket cost not to exceed $10,000."

FSU Chancellor James Anderson said that by signing the agreement, FSU and FTCC are promising more affordable tuition, and the institutions are committing themselves to provide academic advisement, personal support, and an overall academic environment that will help students be successful at both schools.

"Fayetteville State University has responded to the leadership challenge presented by UNC President Margaret Spellings, by Chairman Harry Smith of the UNC Board of Governors, and President Peter Hans of the NC Community College System," Anderson said. "Each has publicly espoused the need to make higher education in North Carolina more accessible, more affordable, and more accountable. Through this degree program, we have lessened the often-crushing burden of debt for our students."

The $10K Degree Pathway Plan will expand to include other colleges and universities. Last week, FSU signed an agreement with Richmond Community College. Partnerships are also planned with Davidson County Community College, Guilford Technical Community College, Isothermal Community College, and Vance-Granville Community College.

About Fayetteville State University
Fayetteville State University is a constituent institution of The University of North Carolina and the second-oldest public institution of higher education in the state, having been founded in 1867. FSU offers degrees at the baccalaureate, master's, and doctoral levels. With more than 6,200 students, Fayetteville State University is among the most diverse institutions in the nation. Chancellor James A. Anderson is the 11th chief executive officer. To learn more about Fayetteville State University, visit https://www.uncfsu.edu.

About Fayetteville Technical Community College
Fayetteville Technical Community College is a member of the North Carolina Community College System. FTCC serves over 40,000 students annually and provides more than 250 programs of study leading to the associate degree, certificate, or diploma. To learn more about Fayetteville Technical Community College, visit https://www.faytechcc.edu/.

For more information, call Jeffery Womble at Fayetteville State University at (910) 672-1474 or email jwomble@uncfsu.edu, or Brent Michaels at Fayetteville Technical Community College at 910-672-8209 or email at michaelb@faytechcc.edu.