A Lunch to Remember - Bronco Kickoff
Sometimes a lunch break isn't just a lunch break. Flashback to Tuesday, August 13, in Cook Quad. DJ Spaceage Timmy is blasting "Wobble Baby" as dancers take to the lawn and showcase their best moves – including an orange pig mascot who towers over the crowd. Lines have formed in front of various food trucks, dispensing such tasty fare as pork barbecue, fried fish, tacos, wings, Philly cheesesteaks and collard sandwiches.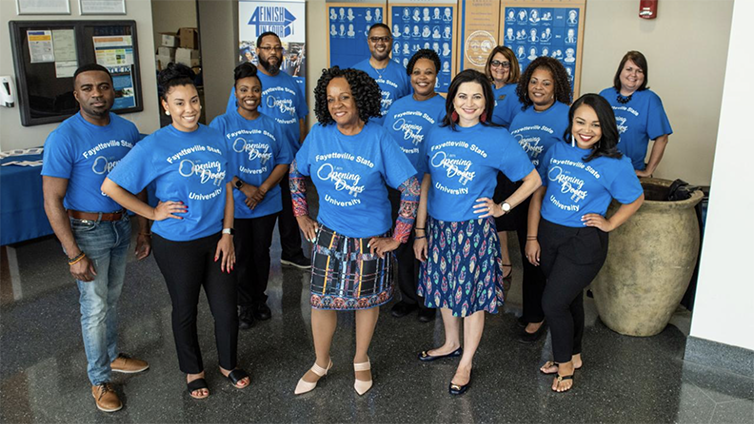 The first-ever "Food Truck Corral" was part of Bronco Kickoff, several days of festivities ushering in a new school year and the promise of exciting times ahead. To show their appreciation for about 900 faculty and staff, the university hosted the free event from noon to 2 p.m.

"It's hot out here, but I love it!" said Sandra Hughes, perusing the menu at the Bowls on a Roll food truck in the 95-degree heat. "This is all about togetherness," added Sandra, who works in accounts payable in the business and finance department.
Some took refuge from the heat under white tents decorated with white balloons. Tables covered in Bronco blue linens set a refined tone as hundreds gathered to eat and chat.

Phyllis Hunt, from the housekeeping department, sat with three of her co-workers, Frances Tucker, Sandra Davis and Mary Wortham. Together, they have about 35 years of service to the university. "FSU is all about teamwork," Phyllis said, "and we feel like our work is appreciated here."

Just prior to the "Food Truck Corral," a T-shirt giveaway brought crowds of faculty and staff to Seabrook Auditorium. The Bronco blue shirts, emblazoned in white with "I Am Opening Doors," send a message of strength, opportunities and growth to those who give so much to FSU.

"We appreciate them and all their support to the university, for all they do," said Jalisha Pone, Associate Director of Development, as she handed out T-shirts at lightning speed.

"There's a lot of Bronco pride here," said John Brooks, an Associate Professor of History who's been teaching at FSU for 20 years, as he gladly accepted a T-shirt.

Dr. Peggy Valentine, the Interim Chancellor who assumed her position just days earlier, also got into the act, speaking to the crowd about her goals for the year. Dr. Valentine also put on a Bronco blue T-shirt over her dress and happily posed for a photo with the Institutional Advancement team.

As the new Vice Chancellor for Institutional Advancement, Lorna Ricotta said she was experiencing her first official kickoff with students moving in and a slate of spirit-filled activities.
"I love the energy!" Ricotta said. "The anticipation that something great is about to happen. It gives me butterflies."


Written by Janet Gibson
Photo by Cindy Burnham