Meet the Staff
Founded in 2010, the Center for Defense and Homeland Security (CDHS) is located less than 10 miles from Fort Bragg. Our Army and Special Operations partnerships have leveraged our research capabilities in order to develop innovative solutions to prepare the next generation of leaders within the Cybersecurity, National Security, and Emergency Management disciplines.
Meet the Staff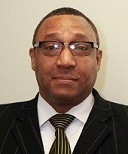 Mr. John A. Bellamy - Interim Executive Director
Dr. Cheryl Gainey - Business Officer
Mr. Mark Dohrmann - Administrative Suppor
Mr. Mose Harris IV - Program Manager for Federal Internships
The CDHS is designed to develop the next generation of national security and disaster preparedness professionals by addressing issues of compelling interest to the security of the United States. The CDHS' interdisciplinary team of scientists, practitioners, and education specialists are engaged in transformational research. Through strategic partnerships with National Research Laboratories, Industry Associates, Institutions of Higher Education, the Department of Defense (DOD), the Department of Homeland Security (DHS), and other federal, state, and local entities, the CDHS prepares its students for success in the modern workforce.