Student Achievements and Opportunities
KUDOS to IGHP Students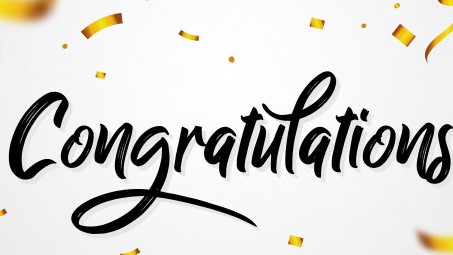 to Ms. Alejandra Marquez Fayetteville State University (FSU) student Alejandra Marquez was honored recently with the GEOINT (Geospatial Intelligence) Women of Color Award during the live GEOINTegration Summit Award session organized by the United States Geospatial Intelligence Foundation (USGIF). Marquez's poster presentation involved the use of geospatial data to map and analyze the spatial pattern of planned parenthood and its effect on teen birth rates in the United States. Marquez is a senior majoring in interdisciplinary studies with a minor in geospatial intelligence
OPPORTUNITIES:
Grad School. See your Advisor or mentor for details:
Graduate School:
-- UNCG Graduate School information session. Virtual information session on Thursday, October 21, 2021, at 5:30 p.m. They may RSVP for this event at: go.uncg.edu/historyrsvp2021.
-- Oct 5 and Nov 22: The University of Memphis in the School of Urban Affairs and Public Policy. October 5th, there is a university-wide graduate studies information session, and our program will host a second program-only information session on November 22nd. Contact for more information: Dr. Davia Downey
Associate Professor of Public Administration and Director, Ph.D. in Urban AffairsThe University of Memphis, School of Urban Affairs and Policy
-- Sept 30: The 2021 Virtual Open House for the McNair Scholars Program will be held on ZOOM, Thursday, September 30th at 2:00 pm. RSVP to ewilli24@uncfsu.edu to receive the ZOOM link.
--Sept 30: Virtual Exchange program We will define and explore the elements of Virtual Exchange and focus more specifically on the COIL model of Virtual Exchange. We will then discuss research on the impact of virtual exchange with a particular emphasis on issues of inclusivity and diversity.


---City University of New York (CUNY) The PhD Program in History Fall 2021 Open Houses will be on:

Tuesday, October 26 from 5:30-6:30Wednesday, November 3 from noon-1Please note that both events are virtual. The GC does not allow visitors at this time. Please choose one event, then RSVP to History@gc.cuny.edu . You will be sent the Zoom invitation on October 25th.
--Georgetown University Master of Science in the Foreign Service (MSFS) program at Georgetown University, the premier international affairs program in the country. Ja'net Y. DeFlorimonte
Director of Admissions
Master of Science in Foreign Service
Edmund A. Walsh School of Foreign Service
Georgetown University
---Nov 15, 2021. Capital Semester Internship for spring 2022. hrough the Capital Semester program, TFAS brings students from across the U.S. and world to Washington for 15 weeks. Students will earn 12 credits from George Mason University, be placed in an internship within their fields of interest, and live in furnished apartments in the Capitol Hill neighborhood, just blocks from the Library of Congress and U.S. Capitol.

The fall semester focuses public policy and international affairs, while the spring semester's theme is Leadership and the American Presidency. The spring program is sponsored in conjunction with the Ronald Reagan Institute.
Dec 1-2: NCState: We are happy to announce our upcoming college-wide Graduate Virtual Open House and hope you will share this invitation with your students, colleagues and professional networks. Feel free to be in contact with me if you have any questions or require additional information.
UNCG Graduate School in History
University of Detroit Mercy School of Dentistry. Schedule an appointment with Mr. Melvin Lunkins

Contact with any questions or concerns or if you just feel like chatting- skype, facetime (313-384-0020), email, or zoom.
INTERNSHIPS
Past internships...keep a look out for the 2022 cycle of applications
North Atlantic Paid Internship
Nov. 16. The Atlantic Council's Young Global Professionals (YGP) program is our new, completely revised, paid internship program. With positions available across a broad range of our centers and programs, our YGP program provides young professionals, in at least their junior year of college, an opportunity to gain hands on experience working at the forefront of international affairs and global engagement. We are currently accepting applications through November 16, 2021 for our exciting Spring, 2021 program that runs from January 18 - May 4, 2021. Throughout the course of the program, our YGP interns will receive an in-depth orientation to the Atlantic Council and receive valuable career skills and operational training while also being able to coordinate and participate in events and activities hosted or participated in by the Council.
Nov. 30 Africa to Carolina Fellowship: A project of the North Carolina African American Heritage Commission. Africa to Carolina: "Next Steps in the Journey Project Africa to Carolina, an initiative of the AAHC, serves to identify, acknowledge, and mark each site in North Carolina where enslaved Africans disembarked directly from the African Continent. Next Steps in the Journey, a project funded by the Institute of Museum and Library Services, aims to develop an exhibit centered on this history, to be housed at state institutions across North Carolina. The project will also yield a web portal designed to share resources and information about North Carolina's relationship to, and role in, the Transatlantic Slave Trade, as well as stakeholder convenings to shape future possibilities for physical statewide commemoration of this legacy.