Carmen W. Harper named Executive Director of Alumni Affairs at Fayetteville State University
Harper will oversee university engagement activities to promote and enhance positive relations between FSU and its alumni.
Date: August 16, 2022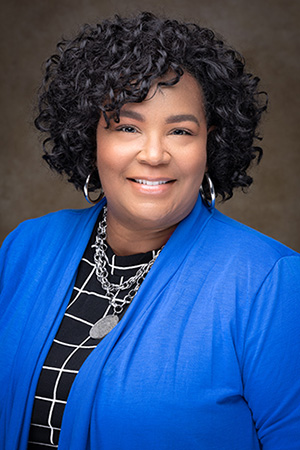 Fayetteville, N.C. (August 16, 2022) Fayetteville State University (FSU) named Carmen W. Harper of Asheville, North Carolina, executive director of Alumni Affairs, effective July 18, 2022.
In her new role, Harper will oversee university engagement activities to promote and enhance positive relations between FSU and its alumni. A department within the Office of University Advancement, Alumni Affairs aims to develop, plan, and implement programs that stimulate interest, build loyalty, and generate financial support for FSU.
Harper served in advancement, fundraising, alumni relations and development for more than 18 years with 15 years in higher education.
"We are thrilled to welcome Carmen Harper to the FSU advancement team," said Chris Davis, interim vice chancellor for university advancement and executive director of the FSU Foundation. "Her leadership and experience in creating quality alumni programming and increasing alumni philanthropic support will be critical to our ongoing fundraising efforts. I am excited to work with her to realize our potential and reach our goals."
An experienced and accomplished development professional, Harper was the first director of alumni engagement and annual giving at Hood Theological Seminary (HTS) in Salisbury, North Carolina. Under her leadership, their alumni engagement, participation, and overall giving increased. Harper also led the effort to reinstate and reinvigorate alumni chapters there.
Through a strong partnership with the Hood Theological Seminary National Alumni Association, Harper helped HTS and the association solidify its signature fundraiser: "The 1885 Society", which increased membership more than 60% over the past four years.
Harper also led the alumni affairs initiatives at Livingstone College in Salisbury where she implemented multiple programs that increased Homecoming attendance and reunion participation. As a result, Livingstone was recognized by USnews.com as a top HBCU Alumni Giving Institution with an overall 23% of alumni giving since 2012.
Harper earned her bachelor's degree in business administration from Livingstone College and her MBA with a concentration in non-profit leadership from Franklin University in Columbus, Ohio.
She is a member of the American Association of University Women (AAUW), the Livingstone College National Alumni Association-Salisbury Rowan Davie Chapter (2nd Vice-President), and a Silver Star member of Alpha Kappa Alpha Sorority, Inc. (Assistant Secretary).
Harper and her husband, Carlos E. Harper, a retired master sergeant with the U.S. Army, have three sons: CJ, Tyrique, and Rashaun.
In her free time, Harper enjoys traveling and spending time with family and friends.