Coronavirus Update
Date: March 10, 2020
Fayetteville State University (FSU) is committed to the health and safety of the campus community and to providing accurate and timely information regarding COVID-19 and its impact on the FSU community.
To report a COVID-positive case, students should contact Student Health Services at (910) 672-1259 and employees should contact the Office of Human Resources at (910) 672-2461. Contractors should report a positive case to the respective FSU contract administrator. Information provided will be considered confidential.
---
FSU's COVID-19 Health and Safety Precautions
Directions for Reporting Violations
Reporting Form to Submit Violations
---
Know the Three Ws: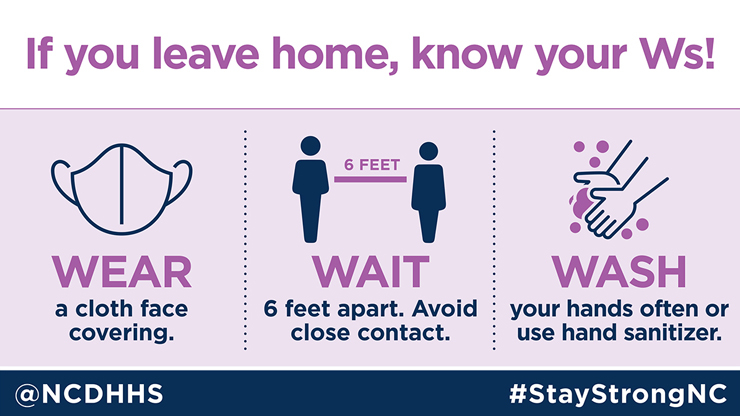 ---
Resources for Students and Parents
---
January 21, 2021: A Letter from Interim Chancellor Peggy Valentine
Dear Broncos,
We are excited to begin our first day of classes for the spring semester on Monday, January 25th. I want to personally thank all who engaged in extensive planning to make our campus safe, including our front-line employee housekeepers, residence life staff, student health professionals, and many more individuals.
It is prudent for everyone to know their COVID-19 status before stepping foot onto campus. Testing is underway for students, employees, and contractors; please take advantage of this free service. As we all work together, let us monitor our symptoms daily, and stay away from others who may be ill. By working together, we will complete the spring semester successfully.
We received our first freezer that will house vaccines for future immunizations. This is a wonderful gift from the UNC Research Collaboratory, and more freezer-units are on the way. We can see the light at the end of the pandemic, as more individuals acquire the vaccine. I encourage you to "take your shot" when it is available. Working in collaboration with the local public health department, we hope to offer vaccination clinics for our students, employees, and local community as soon as we get the official word of approval.
Until then, please take every precaution to protect yourselves, those around you, and our campus community from COVID-19 by following all guidelines that have been shared with you. Continue to maintain social distancing, wash your hands often, and wear your facial covering.
Welcome back!
Dr. Peggy Valentine, Interim Chancellor
---
Town Hall: Interim Chancellor Peggy Valentine
Dear Parents and Students:
Interim Chancellor Peggy Valentine will hold a Town Hall for Parents and Students on Tuesday, January 19, 2021 from 6:30 to 7:30 p.m. The Town Hall will focus on returning to campus and other updates.
If you cannot join via Zoom, the event will be aired on the University's Facebook page.
Topic: Parents and Students Town Hall
Please click the link below to join the webinar:
https://uncfsu.zoom.us/j/91420619695?pwd=V0VrTnJNbzdFcVgzdXVPVFdVK0ZvQT09
Passcode: Bronco2021
---