Coronavirus Update
Date: March 10, 2020
Fayetteville State University (FSU) is committed to the health and safety of the campus community and to providing accurate and timely information regarding COVID-19 and its impact on the FSU community.
To report a COVID-positive case, students should contact Student Health Services at (910) 672-1259 and employees should contact the Office of Human Resources at (910) 672-2461. Contractors should report a positive case to the respective FSU contract administrator. Information provided will be considered confidential.
---
FSU's COVID-19 Health and Safety Precautions
Directions for Reporting Violations
Reporting Form to Submit Violations
---
Know the Three Ws: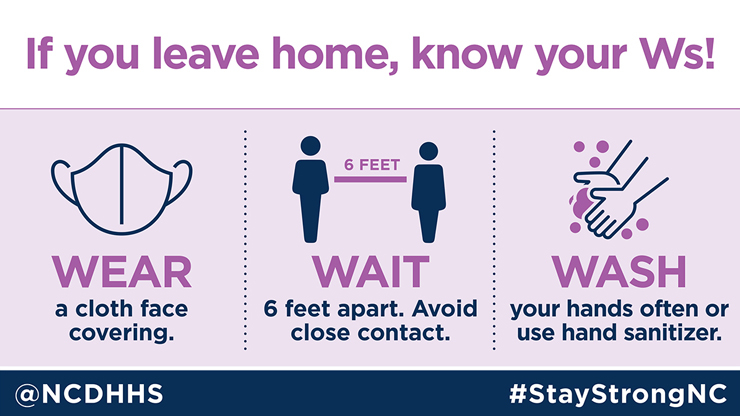 ---
Resources for Students and Parents
---
Town Hall: Interim Chancellor Peggy Valentine
Dear Parents and Students:
Interim Chancellor Peggy Valentine will hold a Town Hall for Parents and Students on Tuesday, January 19, 2021 from 6:30 to 7:30 p.m. The Town Hall will focus on returning to campus and other updates.
If you cannot join via Zoom, the event will be aired on the University's Facebook page.
Topic: Parents and Students Town Hall
Please click the link below to join the webinar:
https://uncfsu.zoom.us/j/91420619695?pwd=V0VrTnJNbzdFcVgzdXVPVFdVK0ZvQT09
Passcode: Bronco2021
---
Important Information for the 2020-2021 School Year
Dear Campus Community:
The University Administration is in the process of preparing guidelines and procedures for campus operations this fall. This detailed information will be available within the coming weeks. Until then, we want to share with you some important dates and information that will assist you in your planning for the upcoming fall semester. More information about each item listed will be forthcoming.
Residence Halls open for freshmen on August 1, 2020.
Fall athletes return to campus on August 1, 2020.
Faculty return to campus on August 3, 2020.
Classes will begin August 5, 2020.
Fall Break will be eliminated so classes can conclude before Thanksgiving.
The deadline to apply for Fall 2020 Graduation is Oct. 30, 2020.
Registration for Spring 2021 and Summer 2021 begins Nov. 2, 2020
The last day of classes for the fall semester will be November 14, 2020.
Final exams will be November 16 – 20, 2020.
Final grades will be due November 25, 2020.
The J-Term, a new 3 week session, begins Jan. 4, 2021 and will end Jan. 22, 2021. Registration opens November 2. J-term is considered part-of-term for Spring 2021 like the 1st and 2nd 8 weeks.
The Spring Semester will begin January 25, 2021.