Coronavirus Update
Date: March 10, 2020
Fayetteville State University (FSU) is committed to the health and safety of the campus community and to providing accurate and timely information regarding COVID-19 and its impact on the FSU community. FSU has 0 confirmed case(s) of COVID‐19. Neither FSU nor public health authorities will identify any individuals who have tested positive for the virus, nor will information be provided that may compromise confidentiality in accordance with the Family Educational Rights and Privacy Act (FERPA) for students and the North Carolina State Personnel Act for employees.
To ensure your well-being, and the well-being of others, please comply with health‐authority‐recommended practices. Obtain additional information regarding COVID-19 from health care providers, state health authorities, and the Center for Disease Control.
Know the Three Ws: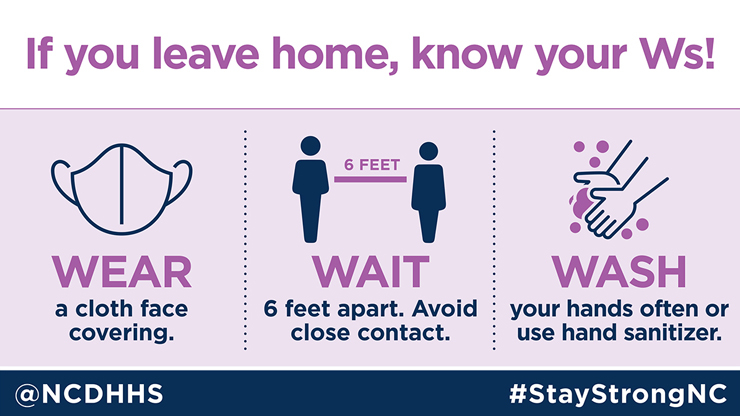 ---
Update as of July 20: NC Department of Health and Human Services' Interim Guidance for Institutions of Higher Education
Governor Cooper has implemented a phased approach to slowly lift restrictions while combatting COVID-19, protecting North Carolinians and working together to recover the economy.
Read the guidance in this document (PDF)
---
Important Information for the 2020-2021 School Year
Dear Campus Community:
The University Administration is in the process of preparing guidelines and procedures for campus operations this fall. This detailed information will be available within the coming weeks. Until then, we want to share with you some important dates and information that will assist you in your planning for the upcoming fall semester. More information about each item listed will be forthcoming.
Residence Halls open for freshmen on August 1, 2020.
Fall athletes return to campus on August 1, 2020.
Faculty return to campus on August 3, 2020.
Classes will begin August 5, 2020.
Fall Break will be eliminated so classes can conclude before Thanksgiving.
The last day of classes for the fall semester will be November 14, 2020.
Final exams will be November 16 – 20, 2020.
Final grades will be due November 25, 2020.
The Spring Semester will begin February 1, 2021.