Institutional Effectiveness
Rooted in the method of scientific inquiry, institutional effectiveness is the systematic collection, analysis, organization, warehousing, and dissemination of quantitative and qualitative information concerning the characteristics and performance of the University. The goal of institutional effectiveness is to provide quality information such that informed decisions and effective planning can be accomplished by University faculty, staff, and administrators.
Institutional Accreditation
Fayetteville State University is accredited by the Commission on Colleges of the Southern Association of Colleges and Schools to award baccalaureate, masters, and doctorate degrees. Contact the Commission on Colleges at 1866 Southern Lane, Decatur, Georgia 30022-4097 or call 404-679-4500 for questions about the accreditation of Fayetteville State University. In addition, individual university colleges and degree programs have program-specific accreditation.


SACSCOC (SACSCOC.ORG)


Program-Specific Accreditation

In addition to institutional accreditation, academic programs may be accredited through programmatic or "specialized" accrediting agencies. The following lists programs at Fayetteville State University with specialized accreditations. Programs with an "approved status" only follows: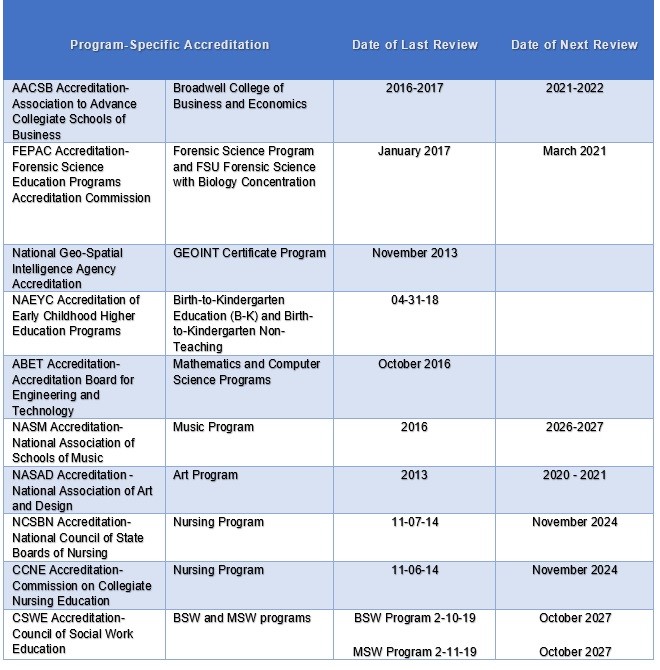 Note: The program-specific accreditation information can also be viewed in a word document.
Approved Programs:
| | |
| --- | --- |
| Department | Program |
| Chemistry and Physics | Chemistry |
Assessment
Coming Soon - Under Construction

National Institute for Learning Outcomes Assessment Making Learning Outcomes Usable & Transparent
About Us | NILOA Publications | Resource Library | Degree Qualifications Profile | Transparency Framework | FULL NAVIGATION>>
Assessment Resources