Resources & Services
FSU is committed to providing a safe and welcoming environment for all students, staff, faculty, and visitors. All acts of sex/gender-based harassment or discrimination, including but not limited to Prohibited Sexual Conduct disrupt the well-being of students, staff, and faculty, along with our entire campus community. Additionally, these acts often create barriers that may prevent inidividuals from participating in programs, activities, and other University activities.
Fayetteville State University Campus Safety Resources
* Confidential resources provide a free, confidential place for FSU Students to seek support, information, and assistance if they have experienced any incident of prohibited conduct.
** Confidential resources provide a free, confidential place for FSU Staff and Faculty Members to seek support, information, and assistance if they have experienced any incident of prohibited conduct.
For individuals who are not prepared to make a report, or who may be unsure what happened, but are still seeking information and support, there are several campus confidential resources available. Generally. confidential resources will not share any information with the University or anyone else, unless there is an imminent risk of harm to self or others. Any disclosure of an incident while seeking confidential services will not constitute a report to the University and the University will not investigate or respond.
The University encourages all community members to make a prompt report of any incident of Prohibited Sexual Conduct to the applicable law enforcement agency and the University. Please visit the Reporting Concerns tab for more details.




Please note: additional information, resources, and support may be available through various local, state, and national government offices, non-profit organizations, and related organizations that are not affiliated with the University. Please check with your local listings for more details or conduct a web search to learn more about alternatives that may be useful.
Campus Safety Resources Printable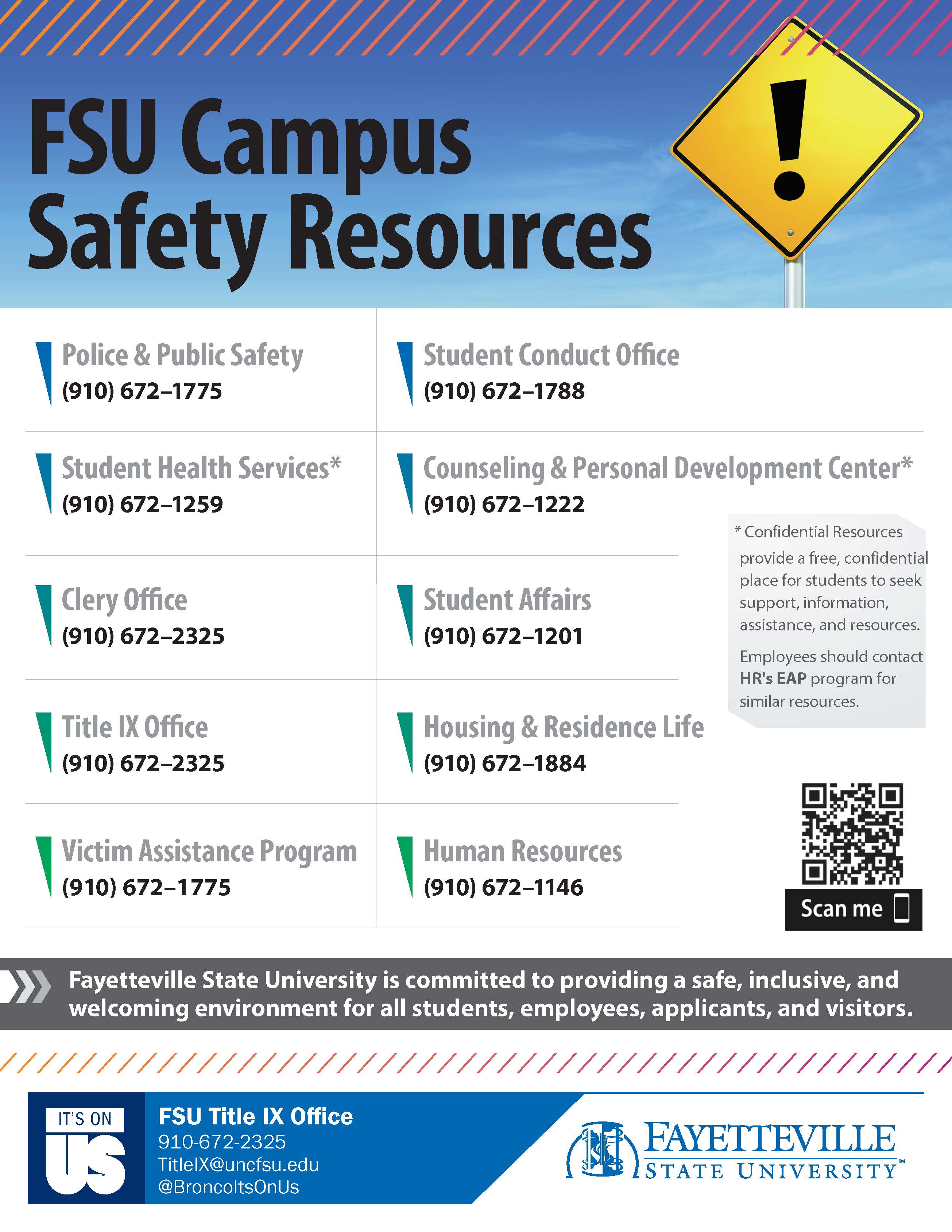 Message from FSU Campus Safety Offices:
All of our operations and processes have been carefully crafted to provide useful support, assistance, and resources to our campus community members and to maintain a safe, inclusive, equitable, and welcoming environments. Nearly all
of our resources have moved to effective, virtual delivery.
As you know, safety at Fayetteville State University encompasses a wide range of issues and requires the combined efforts of all departments and campus community members. In addition to the programs, initiatives, and other outreach events we regularly conduct, we also have
useful information available on our website. Feel free to browse and search the University's site to research topics that interest you: www.uncfsu.edu

Fayetteville State University is committed to providing a safe learning, living, and working environment for all members of the University community. We encourage you to continue to discuss your concerns, feedback, and experiences with us so we can better know what you would like to see from our team, what we are doing well, and where we can improve.
We look forward to continuing the conversations with you as we work to adjust our operations to better fit our needs and ensure real change happens. We have several options to connect via phone, email, or reporting forms on our webpages.
---
---
---
Non-Campus Resources

Disclaimer: Fayetteville State University has provided a listing of known non-campus resources. The agencies, organizations, providers, services, and other information on the list are from a variety of sources. The list is being provided as a courtesy and for information only. The University does not endorse, approve, license, or recommend any of the listed non-campus resources. It is the responsibility of the user of this list to determine whether any of the content is of value to them and whether or not the agency, service or organization meets their specific needs.

---
---
Personalized Safety Planning and Related Options

•https://ncadv.org/personalized-safety-plan
•https://www.loveisrespect.org/for-yourself/safety-planning/
•https://www.thehotline.org/help/path-to-safety/
•https://www.circleof6app.com/
---
Online Safety Guides
Our lives have moved online, and our interactions with social media platforms have multiplied. Being online has allowed us to connect, but the threat of harassment and abusive behavior has risen to an all-time high.We hope these tools make it simpler for you to stay safe online when you use Twitter, Facebook, Instagram, YouTube, and Tumblr.
---
These organizations provide confidential resources, referrals, and services for individuals, along with their family and friends:

•LoveisRespect.org provides a live, confidential chat (IM-style) with a peer advocate available 24/7.
•Onelove educates young people about healthy and unhealthy relationships, empowering them to identify and avoid abuse and learn how to love better.
•Call a Peer Advocate - Speak with a trained LoveisRespect advocate for education and support for you or someone you love who is in a violent relationship. 1-866-331-9474.
•Text Message - Get a quick response from one of LoveisRespect's peer advocates by texting "loveis" (capitalization does not matter) to 22522.
•Planned Parenthood is a nonprofit organization that provides sexual health care in the United States and globally. Chat online or text "PPNOW" to 774636 (PPINFO) to get answers.
•Victim Connect provides information and referrals for victims of all crime and can be reached at 855-4-VICTIM (855-484-2846).
•Suicide Prevention Lifeline is a national network of local crisis centers that provides free and confidential emotional support to people in suicidal crisis or emotional distress 24 hours a day, 7 days a week.
•Crisis Text Line is a global not-for-profit organization providing free crisis intervention via SMS message.
•Polaris Project operates the National Human Trafficking Hotline at 1-888-373-7888.
•National Domestic Violence Hotline (1-800-799-7233) is 24/7, confidential and free. Also available through chat.
•National Sexual Assault Hotline (1-800-656-4673) is 24/7, confidential and free. Also available through chat.
•Trans LifeLine (1-877-565-8860) provides peer support for trans folks 9am-3am CT.
•Deaf Hotline (1-855-812-1001) is available 24/7 through video phone, email and chat for Deaf, DeafBlind, DeafDisabled individuals.
•Forge is a national transgender anti-violence organization that provides direct services to transgender, gender non-conforming and gender non-binary individuals.
•Scarleteen provides inclusive, comprehensive, supportive sexuality and relationship information for emerging adults.
•Human Rights Campaign (HRC) is working to provide tools, facilitate connections with other LGBTQ student activists across the country and empower youth to fight for LGBTQ equality on campus and beyond.
•1in6.org Support for men who have experienced abusive or unwanted sexual experiences.
•End Rape on Campus (EROC) works to end campus sexual violence through direct support for survivors and their communities; prevention through education; and policy reform at the campus, local, state, and federal levels.
•National Domestic Violence Hotline provides support, crisis intervention, safety planning assistance and resource referrals for domestic violence victims and survivors.
•Trans Lifeline created and staffed by transgender people, the Trans Lifeline is for any transgender person in crisis.
•Peace Over Violence builds healthy relationships, families, and communities free from sexual, domestic, and interpersonal violence.
•RAINN (Rape, Abuse and Incest National Network) runs the National Sexual Assault Hotline, which offers 24/7 support to anyone who has experienced sexual violence.
•Boys Town provides support groups and other mental wellness services.
•Good Therapy search for therapists and counselors in your area using Good Therapy's directory.
•LGBT National Hotline serves gay, lesbian, bisexual, transgender, and questioning people by providing peer support and local resources.
•Your Life Your Voice is a hotline for teens and young adults dealing with depression, suicidal thoughts, addiction, physical or sexual abuse, gang violence or an overwhelming challenge.
---
---
---
Learn More About Campus Safety Laws
Title IX

● Title IX of the Education Amendments of 1972 is a federal law that prohibits discrimination on the basis of sex in federally funded educational programs and activities. ● Title IX declares that sexual harassment and sexual violence are prohibited forms of gender discrimination. ● Sex discrimination can include sexual harassment or sexual violence, such as rape, sexual assault, sexual battery, and sexual coercion.
Title VI

● Title VI of the Civil Rights Act of 1964 prohibits discrimination on the basis of race, color, and national origin in programs and activities receiving federal financial assistance.
Campus SaVE Act

● Campus SaVE Act applies to the Violence Against Women Act (VAWA) amendments to the Clery Act. The SaVE Act ensures transparency, accountability and education, expanding the scope of the Clery Act in terms of reporting, response, and prevention education requirements around rape, acquaintance rape, domestic violence, dating violence, sexual assault, and stalking.
Violence Against Women Act

● The Violence Against Women Act (VAWA) is a federal law that supports response to crimes of domestic violence, sexual assault, dating violence and stalking.
Clery Act

● The Jeanne Clery Disclosure of Campus Security Policy and Campus Crime Statistics Act is a federal statute requiring colleges and universities participating in federal financial aid programs to maintain and disclose campus crime statistics and security information.
---
---
---
Fayetteville State University's Clery Office and Annual Security and Fire Safety Report
---
---
Notice of Non-Discrimination
Fayetteville State University is committed to equality of educational opportunity and employment and does not discriminate against applicants, students, or employees based on race, color, national origin, religion, sex, gender identity, sexual orientation, age, disability, genetic information or veteran status.
Moreover, Fayetteville State University values diversity and actively seeks to recruit talented students, faculty, and staff from diverse backgrounds.
This prohibition against sex discrimination covers all University programs and activities (both on and off campus), including but not limited to financial assistance, housing, athletics, recruitment, and admissions. Title IX also prohibits all forms of discrimination in all aspects of employment.
Fayetteville State University's complete non-discrimination policies, grievance procedures, and University officials responsible for supporting the University's compliance are outlined here and here.

You may also direct inquiries concerning the application of non-discrimination laws to by emailing the Title IX Office, calling 910-672-2325, visiting Barber Building Room 242, or to the United States Department of Education, Office of Civil Rights (OCR).
For further information about OCR and its jurisdiction, call 1-800-421-3481, email Office of Civil Rights or visit U.S. Department of Education's Office for Civil Rights home page.
---
---