Campus Notes
Dear Campus Community,

As we usher in a new semester, we want to remind you that each of us can help create a safer campus community by learning to recognize signs of prohibited conduct and promptly reporting them to prevent incidents. Our campus prevention and education efforts are about everyone in our community adjusting the environment so that harm - including all forms of Prohibited Sexual Conduct (e.g. Dating and Domestic Violence, Sexual Misconduct, Retaliation, Stalking, and Sexual Harassment) - does not occur in the first place.
What can you do today?
🔵Be proactive by helping to reinforce positive, healthy social norms on campus and taking the Broncos Healthy Relationship Pledge.
⚪️Join a Task Force IX workgroup and collaborate with students, staff, faculty, and other community members to develop solutions for our campus community.
🔵Remain engaged by participating in all campus webinars and other e-learning options, and request a workshop or training for your team, study group, office, or division.
⚪️Review our Bystander Intervention guides and attend our interactive virtual workshops to refresh your skills.
🔵Discuss this message and other useful information, like our Annual Safety Report and LiveSafe features with your circles.
⚪️Share your feedback, ideas, and suggestions for the Title IX Office operations on campus.
🔵Offer to connect survivors with campus resources that can support them in their recovery. (Student Health Services and the Counseling & Personal Development Center offer confidential support to students, ComPsych Guidance Resources offers similar support to staff & faculty.)
⚪️ When you see something, say something by reporting concerns and incidents as soon as practicable to FSU Police & Public Safety at 910-672-1911 or by visiting the Mitchell Building. Officers are available 24 hours a day, 7 days per week.

As a reminder, FSU offers several options to all students, staff, faculty, applicants, and visitors to report Title IX concerns and incidents, including an online reporting system that is available from any smartphone, tablet, or computer. For campus community members that are living, learning, and working remotely or on campus, all University resources & supportive measures remain available to help if you or they experience Prohibited Sexual Conduct. To learn more about your reporting options and the Title IX complaint resolution process, or request supportive measures, please connect with the Title IX Office at 910-672-2325 or TitleIX@uncfsu.edu, visit the Barber Building - Office 242, or review: https://www.uncfsu.edu/title-ix-concerns
---
Dear Campus Community:

The Campus Safety Team Leaders would like to briefly remind all campus community members that we remain available to serve you. All of our operations and processes have been carefully crafted to provide useful support, assistance, and resources to our campus community members and to maintain a safe, inclusive, equitable, and welcoming environments. Nearly all of our resources have moved to effective, virtual delivery. As you know, safety at Fayetteville State University encompasses a wide range of issues and requires the combined efforts of all departments and campus community members. In addition to the programs, initiatives, and other outreach events we regularly conduct, we also have useful information available on our website. Feel free to browse and search the University's site to research topics that interest you: www.uncfsu.edu





Fayetteville State University is committed to providing a safe learning, living, and working environment for all members of the University community. We encourage you to continue to discuss your concerns, feedback, and experiences with us so we can better know what you would like to see from our team, what we are doing well, and where we can improve. We look forward to continuing the conversations with you as we work to adjust our operations to better fit our needs and ensure real change happens. We have several options to connect via phone, email, or reporting forms on our webpages.

In Solidarity,
Student Health Services, Counseling & Personal Development Center, Police and Public Safety, Title IX Office, Student Conduct Office, Clery Office, Residential Life & Housing, Victim Assistance & Crime Prevention Office and Student Affairs,


---
Student Updates: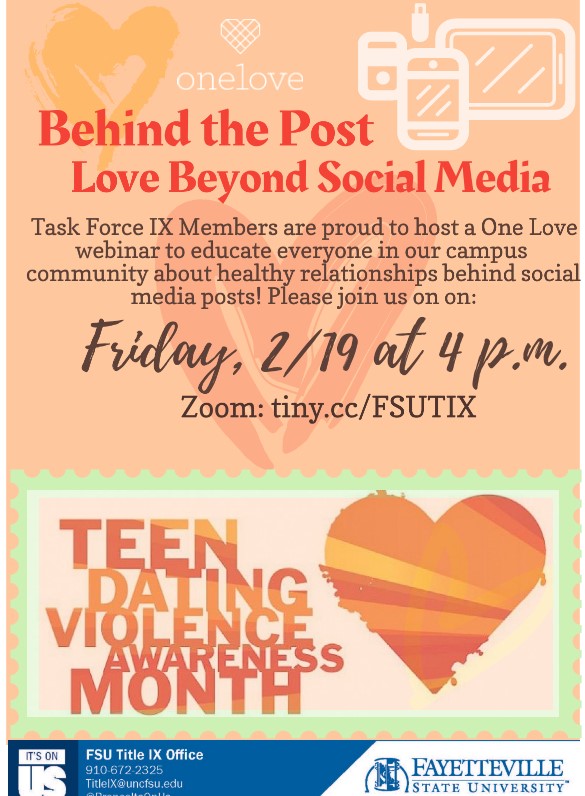 Dear Broncos,
Please plan to join us and other Task Force IX student-educators on Friday, February 19th at 4:00 p.m. for opportunity to learn more about Love Behind Social Media Posts, along with new communication techniques to use in your relationships!
Please register today: http://tiny.cc/FSUTIX