FSU Police & Public Safety
The Fayetteville State University (FSU) Department of Police and Public Safety provides law enforcement and security services 24 hours a day, 7 days a week for students, faculty, staff, alumni and visitors.
FSU's Police and Public Safety Department:
If you are experiencing an emergency related to campus, please immediately dial 1911 from any campus phone or 910-672-1911 from your mobile phone.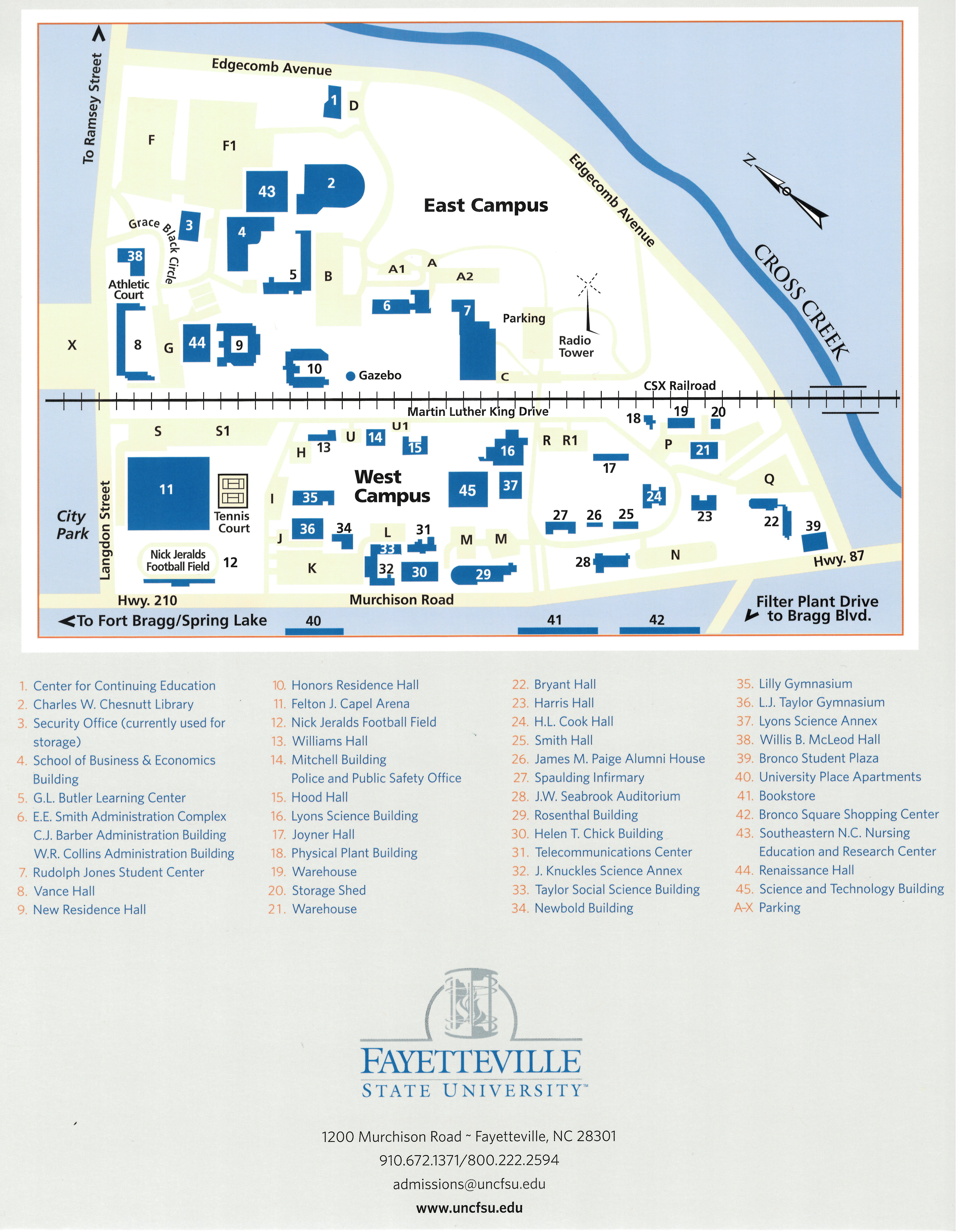 FAQs
What to Expect When Reporting an Incident to FSU Police & Public Safety and other Law Enforcement Officials.
The University encourages individuals to report Prohibited Sexual Conduct incidents and other crimes to FSU Police and Public Safety and/or local law enforcement officials.

Timely reporting to the police is an important factor in successful investigation and prosecution of crimes, and may lead to the arrest of an offender or aid in the investigation of other incidents.


A police report will document the incident and take the first steps toward filing criminal charges. When you contact the police to the make the report, a patrol officer will meet with you at a location that you choose and take the report. You have the right to have a support person or advocate with you during the conversation.
The Officer will ask you detailed questions about the incident and gather information about any witnesses and the person(s) involved. The process may end here if you do not want to go further.
Many police departments will accommodate the choice to report to police and not prosecute, and most allow victims to file incident reports without pressure to go further. There are many reasons why you might only file a report, such as qualifying for victim compensation or establishing a record.
The report goes to the police unit in the agency where the incident occurred. This could be FSU Police and Publc Safety, Fayetteville Police Department, or other agencies.
A detective who specializes in these cases will be assigned and will usually call you within a few days to ask more questions and discuss the case. The detective will investigate the incident by gathering evidence.
---
Is Reporting to the Title IX Office the same as reporting to a Law Enforcement Officials?
No. Reporting a complaint to FSU's Title IX Office is not the equivalent of filing a police report or reporting the incident to Law Enforcemnt Officials.
Individuals have the right to report incidents to off-campus Law Enforcement Officials (Police) and to FSU's Police and Public Safety. You can report to both, just the Police, just to the University, or to neither. It is your choice. Please know your decision to pursue any criminal, civil, or other legal action will not impact any Title IX investigation.
---
Is there any difference between an administrative investigation and a criminal investigation?

As described in the Prohibited Sexual Conduct Policy - An investigation into a Formal Complaint is considered an administrative investigation which is separate and distinct from a criminal investigation conducted by the University Police or another local law enforcement agency. The distinctions include, but are not limited to the following:
1. An administrative investigation can be conducted prior to or simultaneous with a criminal investigation, but under no circumstances shall an Administrative Investigator wait for the conclusion of a criminal investigation or criminal proceeding to begin an investigation. However, an Administrative Investigator may temporarily delay the fact-finding portion of the investigation while the University Police gathers its evidence, after notifying the parties of the reason for the delay. Once notified that the University Police has completed the gathering of its evidence (not the ultimate outcome of the criminal investigation or the filing of any criminal charges), the Administrative Investigator shall promptly resume and complete the fact-finding portion of the administrative investigation.
2. Information obtained through a criminal investigation may be used by University decision-makers and the Administrative Investigator for consideration in the administrative investigation, Informal Resolution, Formal Resolution, and Disciplinary Action process. Information obtained by the Administrative Investigator may not be provided to a law enforcement agency unless obtained in accordance with the Family Educational Rights and Privacy Act (FERPA).
3. Because the standards for finding a violation of criminal law are different from the standards for finding a violation of a University policy, criminal investigative reports or results are not determinative of whether Prohibited Sexual Conduct, for purposes of this Policy, has occurred. Conduct may constitute Prohibited Sexual Conduct under this Policy even if a law enforcement agency lacks sufficient evidence of a crime and therefore declines to prosecute.


---
What is the Victims' Assistance Program?
The Fayetteville State University Police and Public Safety Department's ("PPSD") Victim Assistance Program provides services to anyone who may become a victim of a crime committed within the jurisdiction of the PPSD.
Services Provided:
Victim Assistance is available 24 hours a day, seven days a week, to respond to the emergency needs of a victim. For assistance, call 910.672.1775.
Referrals may be made to the University's Center for Personal Development, the Safe-Zone Office, Title IX, and off-campus agencies.
Victim assistance personnel can accompany and support victims through all stages of the criminal justice process.
Victim Assistance is available to speak to the campus community about the Victim Assistance Program and other related topics.
For more information or to request a speaker, call 910.672.1775. All services are free, most are confidential, and available to all University students, faculty, staff and visitors who may become a victim of a crime committed within the jurisdiction of the PPSD.If you have been the victim of a crime, contact the PPSD Investigations Division at 910.672.2486 or 910.672.1775 to speak with an officer about your needs.

---
What is the Crime Prevention Program?
From damage and or theft of personal property, to physical violence and injury, crime takes on many forms and can leave one feeling angry, helpless, fearful, frustrated and confused.

The Fayetteville State University Department of Police and Public Safety's Crime Prevention provides various services to empower and inform the Bronco Family through security awareness and crime prevention programs and presentations. We encourage students and employees to be responsible for not only their own safety and security, but also the safety and security of others.

There are actions that all Broncos can practice every day to keep themselves safe. Although Police and Public Safety work extremely hard to keep the FSU campus safe, we cannot predict all criminal activity.
Following some safety precautions will help eliminate criminal activity and behavior:
Program your cell phone: Program your phone to speed Fayetteville State University's (FSU) 24/7 emergency Public Safety number: 910-672-1911.
ICE: Assign an "In Case of Emergency" number (ICE) in your cell phone as rescuers and first responders are trained to check your cell phone for an ICE entry. This is the person you want contacted in an emergency.
Campus call boxes: These are located throughout the FSU Campus.
Pathways: If possible, travel on well-lit pathways and be accompanied by another person.
Suspicious Activity: Notify Public Safety of any suspicious persons, conditions or objects. We will respond and investigate.
When Alone: If possible, telephone ahead to your destination that you're on the way or call the FSU non-emergency number to request a SafeWalk: 910-672-1775. Do not wear headphones/bluetooth devices as these inhibit your ability to hear audible alerts, approaching vehicles, and individuals who may want to harm you.
Stay Alert: Focus on surroundings. Avoid texting while walking, especially when crossing streets.
Plan-Seeking Assistance: Know where to obtain help in the event you may need it; pre-plan escape routes.
Prevent Injury/Falls: Do not carry bags with the hand strap secured around your neck, you must be able to let go in the event you are involved in a struggle. Have bag draped over shoulder to prevent injury.
Calm and Collected: Remain as calm as possible, don't engage in a verbal confrontation and stay focused on getting help.
Reality: Be realistic about your ability to protect yourself in certain situations. Consider escape routes and yelling for help. Your safety is far more valuable than any material items.
---
Where can I learn more about crime statistics on campus?
Fayetteville State University's Annual Security and Fire Safety Report contains crime statistics for the previous three years concerning reported crimes that occurred on-campus, in certain non-campus buildings or property owned or controlled by Fayetteville State University; and on public property within, or immediately adjacent to and accessible from campus. This report includes institutional policies relating to campus safety, such as policies concerning sexual assault and other matters. The report also includes the Fire Safety Report, which contains statistics for the reported fires in University housing units and fire safety systems in these buildings. Additionally, the report contains policies and information concerning fire safety and reporting procedures. To view the report and learn more, please visit https://www.uncfsu.edu/life-fsu/our-campus/campus-safety/annual-crime-reports