Title IX Campus Climate Surveys
Because we will not be satisfied until Prohobited Sexual Conduct stops occurring in our community, we continue to strive for improved or new approaches to affecting a culture change.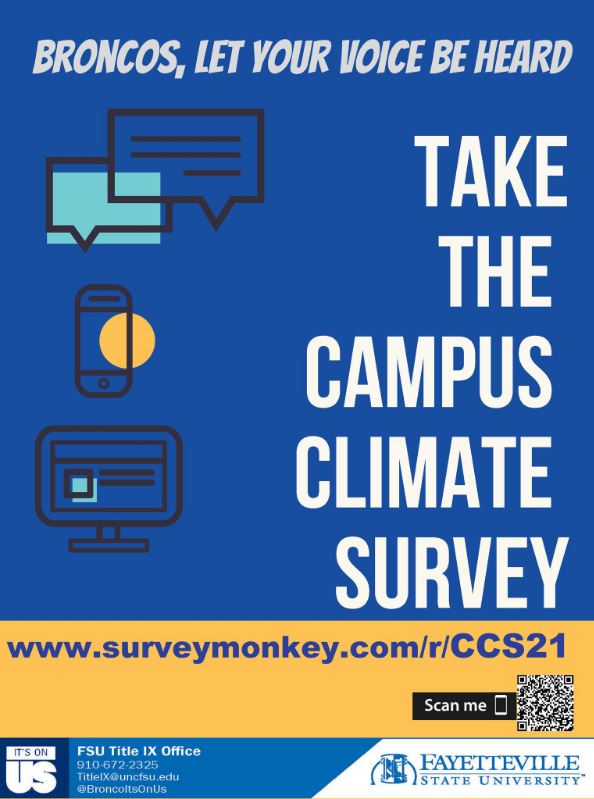 Students, our Spring 2021 Campus Climate Survey is now open. Please invest a few minutes and complete the survey today:
https://www.surveymonkey.com/r/CCS21

---
---
The issues of Prohibited Sexual Conduct on college campuses has rightfully been the subject of national dialogue in recent years, and we have been working hard to address the issue here at Fayetteville State University. Our ongoing mission is to maintain a campus environment that prioritizes the safety and well-being of all campus community members.

One tool we use to identify student attitudes and experiences related to sexual violence, abuse, harassment, and discrimination are surveys. The survey, called a Campus Climate Survey are conducted to identify areas in which we can and should do better and help us prevent all forms of these prohibited incidents on our campus. These surveys measure the prevalence of sexual violence, abuse, harassment, and discrimination on our campus and gauge our students' attitudes and behaviors so we can become better equipped to address incidents. (*Employees are surveyed through Human Resources.)
---
---
Suggestions
If you have suggestions about how Fayetteville State University can reduce Prohibited Sexual Conduct on campus, please call 910-672-2325, visit Barber Building 242, email the Title IX Office, or share it here.

---
---
Information adapted from:
https://www.justice.gov/archives/ovw/blog/best-practices-campus-climate-surveys
https://www2.ed.gov/about/offices/list/ocr/docs/dcl-title-ix-coordinators-guide-201504.pdf
https://www.hedsconsortium.org/heds-sexual-assault-campus-survey/#1482251184991-7c9b8e98-1e35
And Remember Broncos, It's On Us!
Fall 2019 Campus Climate Survey Results
Read More