Fayetteville State University And Guilford Technical Community College Partner On $10k Pathway Degree
Date: September 11, 2018
Dr. James A. Anderson, Chancellor of Fayetteville State University (FSU), and Dr. Randy Parker, President of Guilford Technical Community College (GTCC), signed an agreement today that allows GTCC graduates to complete an online bachelor's degree at FSU at a total cost of no more than $10,000 in out-of-pocket expenses.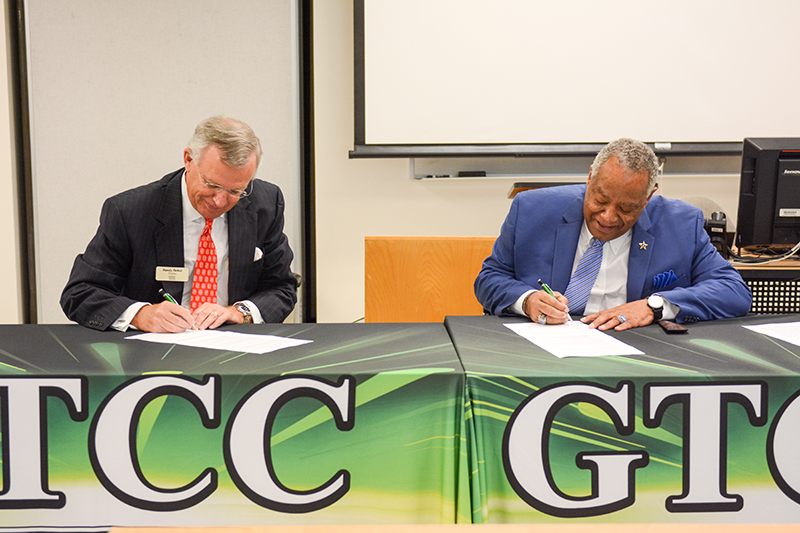 The $10K Pathway Plan opens the door to affordable bachelor's degrees to GTCC graduates in these online programs: Criminal Justice, Fire and Emergency Services Administration, Business Administration (General), Psychology and Sociology. While these degree programs are fully online, FSU will provide regular face-to-face contact with program participants when needed.

FSU and GTCC are members of the Bill and Melinda Gates Frontier Set, a group of 29 colleges and two state systems committed to significantly increasing student access and success and eliminating racial/ethnic socioeconomic disparities in college attainment. The $10K Degree Pathway will contribute to this important national initiative.

"Fayetteville State University is excited to partner with Guilford Technical Community College to offer one of the nation's most affordable pathways to a bachelor's degree," said FSU Chancellor James Anderson. "Both Fayetteville State University and Guilford Technical Community College are looking forward to putting higher education within reach of every North Carolinian, and Fayetteville State University is looking forward to working with Guilford Technical Community College to make a positive difference in the lives of our students and North Carolina."

"We are committed to our students' success and actively seek innovative learning opportunities to help them achieve their educational goals," said Guilford Technical Community College President Dr. Randy Parker. "The $10K Pathway Plan provides GTCC students with another resource to further their education."

FSU has already signed agreements with Fayetteville Technical Community College, Richmond Community College, and Davidson County Community College. Other agreements will be signed with Isothermal Community College and Vance-Granville Community College.

About Fayetteville State University
Fayetteville State University is a constituent institution of The University of North Carolina and the second-oldest public institution of higher education in the state, having been founded in 1867. FSU offers degrees at the baccalaureate, master's, and doctoral levels. With more than 6,200 students, Fayetteville State University is among the most diverse institutions in the nation. Chancellor James A. Anderson is the 11th chief executive officer. To learn more about Fayetteville State University, visit https://www.uncfsu.edu.
About Guilford Technical Community College
Guilford Technical Community College is the fourth largest of 58 institutions in the North Carolina Community College System. GTCC serves more than 35,000 students annually from five campuses and a Small Business Center. Learn more at www.gtcc.edu.