Welcome to Fayetteville State University
As an institutional support services unit, we are here to support your technology needs. The rapidly changing path of information technology is expanding the borders of how we learn, discover, and communicate. ITTS at FSU provides a solid infrastructure to help FSU improve the quality of education and research, prepare our students for work in the twenty-first century, expand its role in the community and around the world, and act as good stewards of the university resources.
Please refer to our website to learn about our services, guides, tutorials and downloads. To talk to someone about ITTS resources or to get assistance with your technology needs, don't hesitate to contact the ITTS Helpdesk at (910) 672-HELP or (910) 672-4357.
Again, we are glad you chose FSU. We will try our best to meet your expectations.
Nick Ganesan
Vice Chancellor for Information Technologies
ITTS Helpdesk
ITTS is pleased to announce the launch of a new IT Help Desk service. FSU has partnered with UNC-Chapel Hill to provide help desk services to allfaculty, staff, and students. Call 910.672.HELP or 910.672.4357 or submit a request online for technical assistance.
Bronco Tip
Fayetteville State University requires that all FSU Network Account owners (students, faculty and staff) change their passwords every 90 days. ITTS strongly encourages all students to change their password before it expires, in order to avoid disruption of access to University services.
Save ink by switching to a different default font. >> Learn More
Share a Distribution list with others in Outlook 2007 by including it in an e-mail message. >> View Tutorial
Alerts
Scheduled Maintenance - systems unavailable
Phishing Scams: NEVER comply with or respond to requests for sensitive or personal information from anyone at anytime via email.
Need Help?
ITTS Help Desk
(910) 672-HELP or (910) 672-4357
Submit a request online
Contact Us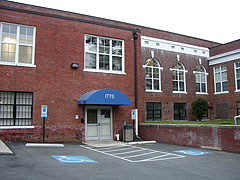 Information Technology and Telecommunications Services
Fayetteville State University
1200 Murchison Rd.
Fayetteville, NC 28301
H.L. Cook Bldg. Basement

Phone: 910.672.HELP or 910.672-4357
Fax: 910.672.1916