Housing & Residence Life
Living on campus at FSU is so much fun! Meet friends you'll keep for life, be close to class, and explore the many exciting clubs, organizations, and events designed to offer something for everyone.
Applying for Housing
We are excited that you are considering living on campus.
Housing Criteria
Be enrolled as an FSU student taking 15 credit hours. Students with less than 12 hours can reside on campus by exception. Graduate students taking 6 or 9 credit hours can also reside on campus. Residential students can be in a hybrid of online and face-to-face classes on campus.
Ensure judicial sanctions and fines have been cleared/fulfilled (if applicable).
Ensure your FAFSA is on file and your financial aid can cover your meal plan and housing costs.
Complete a housing application and pay the $125 application fee in My Housing Portal.
Complete and submit all health forms and immunization requirements to Student Health Services:

Proof of required immunizations
A medical history form
A complete physical (if you are residing in the residence halls)
Provide proof of a credible health insurance. Students may either enroll into Student Blue Health insurance or waive it if they have another insurance carrier. Students should call (910) 672-1259 if they have questions or need forms, and they may send their information via email to healthservices2@uncfsu.edu or secure fax at (910) 612-1366. Visit Student Health Services for more information.

Ensure your FAFSA is on file and your financial aid can cover your meal plan and housing costs (if applicable)
---
First Time Freshmen and New Transfer Students
New students interested in on-campus housing for FALL 2021, please complete the Housing Interest Form. Once this form is completed, representative from the Department of Housing and Residence Life will review your information, ensure your profile is added or updated in My Housing Portal and contact you with next steps.
Exciting orientation sessions are planned for new students.
Additional Information for New Students
New students interested in on-campus housing for FALL 2021, complete the Housing Interest Form.
---
Housing Application Instructions Powerpoint
Phase I:
1. SUBMIT required information to FSU's Student Health Services (located in the Spaulding Building) and Admissions
Student Health Services: (910) 672-1259 | healthservices2@uncfsu.edu
Admissions: (910) 672-1371 | admissions@uncfsu.edu
2. FAFSA MUST be on file or follow up with FSU's Office of Financial Aid for more information
Financial Aid: (910) 672-1325 | finaid@uncfsu.edu
---
Phase II:
3.*MUST SIGN/READ the housing contract and complete the housing application on the MyHousing Portal
NOTE: Login credentials are your: FSU Student Username (ex. username@broncos.uncfsu.edu) & Password; Look up Here
4. *MUST PAY the NON-REFUNDABLE $125.00 housing fee through the MyHousing Portal ONLINE ONLY
NOTE: Please be aware that this a HOUSING APPLICATION FEE, not a deposit. A Housing Application Fee is a service for processing the application.
NOTE: The ONLY payments accepted are DEBIT/CREDIT cards (Mastercard, Visa, pre-paid debit cards) through our online Housing Portal; NO OTHER METHODS OF PAYMENT will be accepted. If you will be using a pre-paid card it is recommended to have a total of $130, due to various fees that are associated with pre-paid cards.
5. REVIEW the housing items What to Bring list and start preparing to move on campus.
6. RESOLVE any pending items with Student Health, Financial Aid, or class registration.
NOTE: Please contact your academic advisor for assistance with classes and class registration
*If you are under 18 years old, your parent/guardian will need to electronically sign off on your application for it to be submitted and considered complete.
---
Phase III:
7. RECEIVE Welcome Letter/Email and specific move instructions.
8. VISIT the ResLife webpage for updates.
9. CHECK your FSU Banner student account, emails, Financial Aid and class registration for accuracy.
10. CONTACT and get to know your roommate (if applicable).
11. PREPARE to move into your new HOME.
---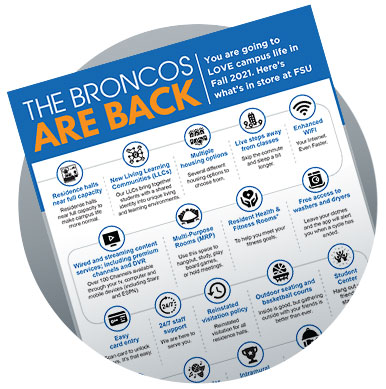 The Broncos Are Back!
You are going to love campus life in Fall 2021.
Download this PDF to see what's in store at FSU.
---
Current Students
Watch the Housing Information PowerPoint for step-by-step instructions. Visit My Housing Portal to complete your housing application and review your status.
---
Move-In Information for Fall '21
Residence Assistants move in August 2nd.
Orientation leaders move in August 6th.
Student leaders move in August 9th and 10th.
Learning Living Community members move in August 11th.
First time and new transfer students move in August 12th through the 14th.
Upper classmen move in August 16th through the 18th.
Students will make appointments to move in for Fall '21. This move in appointment request is for both your health screening appointment and your residence hall move-in appointment. To set your move-in appointment, please click the link and complete the form. Use your FSU email and password to access the form. All FSU Students will be required to complete health screenings prior to residence hall move-in.
Step 1: Health Screening
Step 2: Residence Hall move-in
Both occur on the same day, within the same hour.
Please note, due to the increased safety measures and the health screening requirements, we can only accept move-in appointments during dates/times posted below.
---
Living Learning Communities - New for Fall '21
Be a big part of a small community. Learn where you live, meet friends with similar majors and interests, and enjoy special events designed just for you. Learn more about FSU's Living Learning Communities and apply today. Spaces are limited!
---
A Message from Residence Life