The Office
The mission of the Office of Teacher Education is to enhance the goals of the teacher education programs in the College of Education, and the College of Arts & Sciences. This office initiates, monitors, and implements policies and practices of the University and ensures compliance with state, regional, and national guidelines and regulations.
Of Interest
Clinical Experience Schedules
The College
The College of Education prepares knowledgeable, reflective, and caring school executives and teachers who demonstrate leadership in their schools and classrooms, use research to inform practice, communicate effectively with all candidates and parents, and work diligently to prepare candidates to live and work in a diverse, global, and technologically advanced society.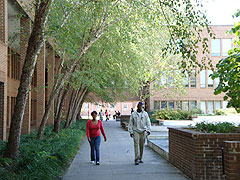 Office of Teacher Education
Fayetteville State University
1200 Murchison Rd
Fayetteville, NC 28301
G. L. Butler Bldg. - Room 243, 2nd Floor
Phone: 910.672.1587, 910.672.1266
Fax: 910.672.2537
Jenny Washington, Director and Certification Officer
Kathleen Marsh, Administrative Support Associate