83 Fayetteville State Student-Athletes Earn High Academic Status
Date: January 10, 2020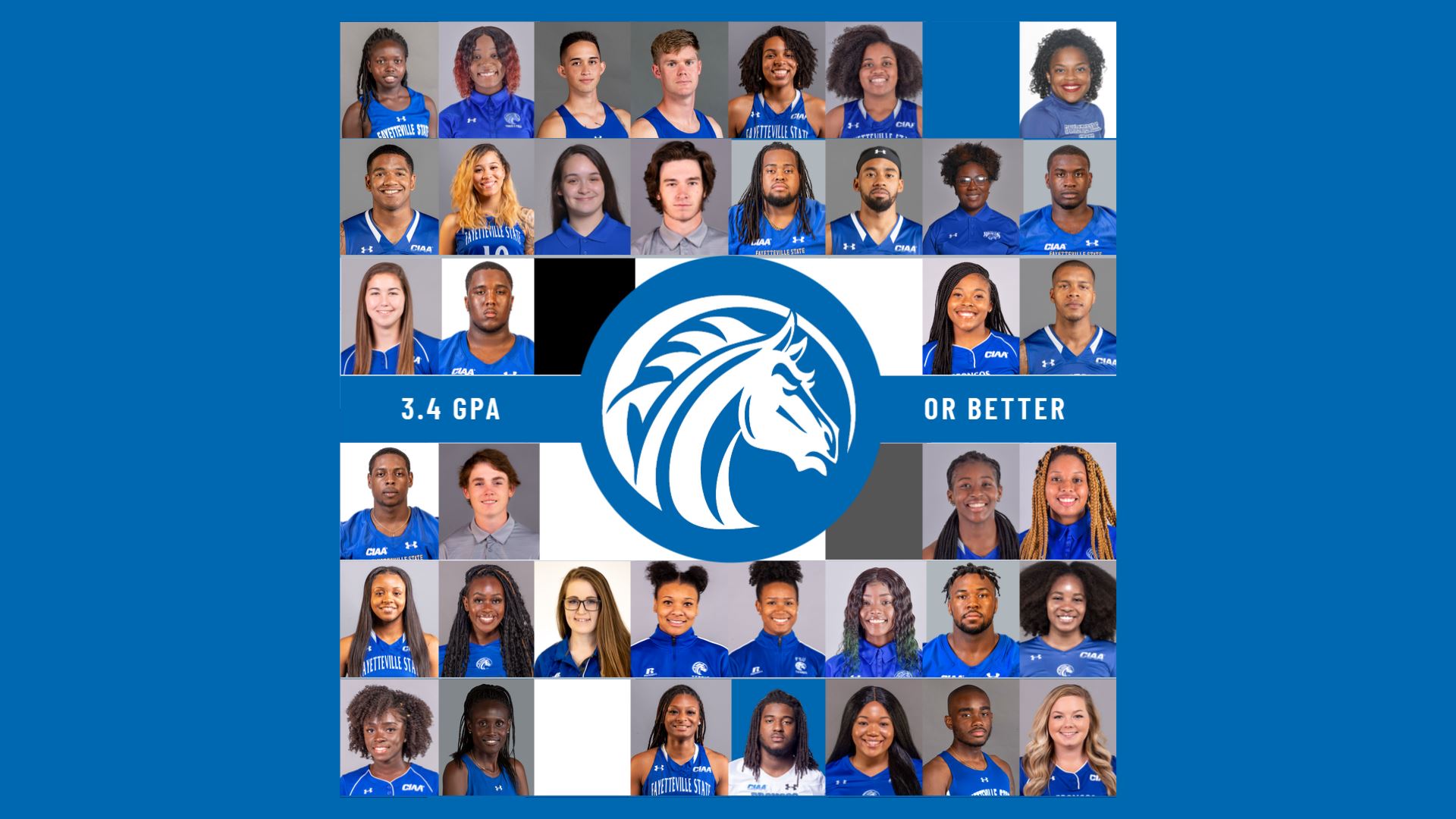 Eighty-three student-athletes at Fayetteville State University are excelling in the classroom by earning a cumulative grade-point-average of 3.0 or better following the Fall 2019 semester. From the that list, 40 have obtained a GPA of 3.4 or better and six have a 4.0.
"It is great to see the commitment to the academic success from our student-athletes," said Director of Athletics Anthony Bennett. "We appreciate our University Professors, academic support staff, coaches and all those who play a role in assisting our student-athletes achieve the ultimate goal of graduation from Fayetteville State University."
During end of year awards ceremony last April, Fayetteville State inducted 18 student-athletes in the third class of the National College Athlete Honor Society, Chi Alpha Sigma, Kappa Chapter after meeting the criteria of a 3.4 grade-point-average or higher in their junior year of athletic eligibility.
The women's basketball program currently has the highest-grade point average of 3.35 following the Fall 2019 semester. Men's cross country is a close second with 3.25 and women's bowling is third at 3.11.
Tawana Allen – Women's Track & Field
Joshua Alonzo – Men's Cross Country
Elton Andrew – Football
Alijah Barber – Football
Tayanna Bennett – Women's Basketball
Amari Black – Cheerleading
Quinton Blake – Men's Cross Country
Joshua Broertjes – Men's Cross Country
Christopher Brooks – Football
Gregory Brooks – Football
Jerinique Brooks – Women's Track & Field
Braynka Brown – Softball
Cameron Burroughs – Football
Cecilia Chafin – Women's Bowling
Mercy Chemutai – Women's Cross Country
Amber Coley – Women's Bowling
Anthony Council – Men's Basketball
Brandye Cropper – Volleyball
Markeise Crutchfield – Men's Basketball
Charli Daniels – Volleyball
Brittany Doss – Women's Tennis
Jawwad Evans – Football
Jada Faison – Women's Basketball
Jordan Ferguson – Football
Tyler Fleming – Football
Meghan Flowers – Women's Basketball
Gemae Fulks – Cheerleading
Keionte Gainey – Football
Olivia Good – Volleyball
Layla Graham – Women's Track & Field
Cameron Green – Football
Meagan Greene – Volleyball
Christopher Herbert – Football
Denzell Hosch – Men's Basketball
Katisha Hyman – Women's Basketball
Mikayla Jackson – Softball
Keshawn James – Football
Abigail Johnson – Softball
Aminata Johnson – Women's Basketball
Michaelia Jonas – Women's Cross Country
Brandon Jones – Golf
Torian Jordan – Men's Basketball
Nelly Kandie – Women's Cross Country
Essence Kirby – Cheerleading
Richard Latimer – Football
David Lawson IV – Football
Avionsay Lytch – Cheerleading
Zackery Martin – Golf
Zyaja Mattocks – Women's Tennis
Tyrique McClain – Men's Basketball
Cameron McCuthchen – Softball
Nakia Mckinnie – Volleyball
Kaile McLean – Women's Track & Field
A'Nilya Mcrae – Cheerleading
Da'Nesha Miller – Volleyball
Amani Muhammad – Women's Basketball
Devin Norwood – Men's Basketball
Jaleia Oatman – Women's Cross Country
De'Andre Peterson – Football
Jaylaan Poe – Men's Cross Country
Angel Pope – Women's Bowling
Charles Pumbu – Men's Cross Country
Jada Romulus – Women's Basketball
Jalen Seegars – Men's Basketball
M'Smrya Seward – Softball
Shenell Shaw-Davis – Women's Basketball
Gerald Simpson – Football
Xiamana Spikes – Volleyball
Cheyenne Stahnke – Women's Bowling
Savannah Sterling – Women's Bowling
Tyrone Stevens – Football
Destiny Stevons – Women's Cross Country
Alyssa Thompson – Women's Basketball
London Thompson – Women's Basketball
James Transou – Football
Grace Vincent – Softball
Isaiah Vinson – Men's Basketball
Jyles Webster – Men's Basketball
Ariyah Wheless – Women's Basketball
Chantel Williams – Women's Basketball
Jessica Williams – Volleyball
Jayla Wooten – Women's Tennis
Britany Worthy – Women's Bowling