Current Students
Think about what it means to be a lifelong learner. Always being open to new skills, new ideas, and new possibilities. Possessing the confidence to adapt to an ever-changing world. These are powerful attributes commonly held by the most successful people. At FSU, we know that the best education is one that continually rewards you throughout life. Lifelong learning at FSU means you will be fully prepared for the challenges and exciting opportunities in the world beyond college.
Find everything you need to succeed as a lifelong learner at FSU!
---
Where is my Professor's Office?
To find specific office locations, login to MyBronco Portal and do a search within the Campus Directory. Because of security reasons, office locations are not included in our public directory.
Refer to screenshot: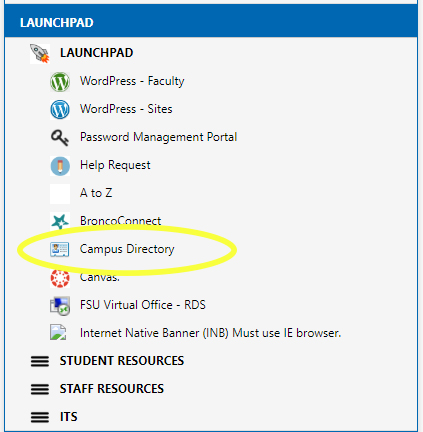 ---
Announcements
Commencement
Do you have questions about Commencement ceremonies?