Dr. Bidisha Bose-Basu
Bidisha Bose-Basu, Ph.D.
Associate Professor of Chemistry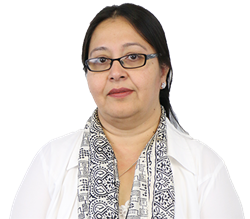 Organic Chemistry
B.S. & M.S. University of Calcutta, India
Ph.D., University of Notre Dame, IN
Office: Science and Technology Building (STB) 311
Phone: (910) 672-1052
E-mail: bbosebas
---
RESEARCH INTEREST

Carbohydrate and nucleic acid structure, and structural aspects of protein-DNA interaction. Initiating new research on natural products.