Mr. Joseph W. Kabbes
Joseph W. Kabbes, M.S.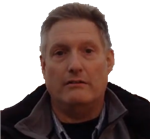 Lecturer/Planetarium Manager
B.S., Civil Engineering, University of Illinois at Urbana
M.S., Astronomy, James Cook University, Townsville, Australia
Office: Science and Technology Building (STB) 312
Phone: (910) 672-2651
E-mail: jkabbes
---
BIOGRAPHY
Mr. Kabbes is an instructor of Astronomy in the Department of Chemistry and Physics at Fayetteville State University. He is also the manager of the FSU Planetarium and Observatory and is very active in STEM outreach and informal education in the Fayetteville region. Mr. Kabbes received his Masters in Astronomy from James Cook University in 2008 and taught at Harper College in Palatine, IL where he managed the Karl G. Henize Observatory. Mr. Kabbes joined FSU in the fall of 2017. Prior to FSU, he also worked as a software engineer for over 30 years.
While at Harper College he conceived and ran the Henize Star Docent program, where middle and high school students were trained to run the college observatory and provided the staffing for the bi-weekly public observing sessions. This program was presented at an Astronomical Society of the Pacific conference in 2012.
Currently Mr. Kabbes presents at libraries and schools in Cumberland county as part of the Bronco Science Road Show program. He also leads area high school students in a weekend STEAM Team project as they investigate robots and rocketry.
His interests are in STEM outreach and education, robotics and cataclysmic variable stars.
---
RESEARCH INTEREST

Astronomy education and public outreach activities; create educational programs and increase public knowledge of planetarium and observatory.