Ms. Andrea N. Bennett
Andrea N. Bennett, M.S.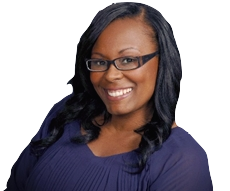 Academic Advisor
Science and Technology B. 112

Phone: 910-672-2913
Email: abenne18
---
BIOGRAPHY

Andrea brings several years of experience working in higher education and holds a BA in Psychology and a MS in Higher Education Counseling and Student Affairs. Andrea has worked as an Academic Advisor for high school and first year students, as an Academic Counselor for TRIO Upward Bound, and held several positions in Residence Life and Multicultural Affairs. Most recently, Andrea left her role as the Counseling Services Coordinator for TRIO Student Support Services at the University of Washington in Seattle, Washington. At the University of Washington, she advised students in STEM and Liberal Arts degree programs. Andrea is excited to be a member of the FSU family and to do her part in making a difference in student's lives.