Arhin Awarded $1.44 Million In Health Resources and Service Administration Funding For Nurse Education
Date: July 10, 2019
Dr. Afua O. Arhin, Fayetteville State University Associate Dean and Professor of the School of Nursing's project Veterans in the Community (VACOM) project has been funded by the Health Resources and Service Administration (HRSA) Nurse, Education, Practice, Quality and Retention – Veteran Nurses in Primary Care for $1,443,360.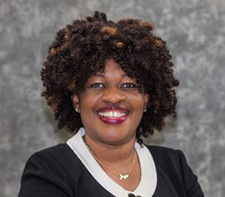 The project begins July 1, 2019 and runs through 6/30/2022.

The VACOM Project is a 3-year program aimed to recruit primary care-oriented veteran undergraduate nursing students committed to practicing in non-institutional settings to provide primary health care in medically underserved communities; provide longitudinal clinical training experiences for veteran undergraduate nursing students in community-based primary care; offer continuing professional development in primary care for practicing RNs, clinical preceptors, and faculty aimed at developing primary care expertise.

The project's primary goals are to:
Recruit veterans into the undergraduate nursing program, ensure their successful matriculation and equip them with the interest and competencies necessary to deliver value-based community-based/primary care, increase access to care and improve population health outcomes in Cumberland County.
Establish a VACOM Fellows Program for faculty and affiliated preceptors to gain competence in community-based/primary care and veteran centeredness.
Prospective students interested in this project can contact the PI, Dr. Afua Arhin at aarhin@uncfsu.edu or the Co-PI Dr. Worth at mworth2@uncfsu.edu.

This project is supported by the Health Resources and Services Administration (HRSA) of the U.S. Department of Health and Human Services (HHS) under grant number U2VHP33061 for $1,443,360. This information or content and conclusions are those of the author and should not be construed as the official position or policy of, nor should any endorsements be inferred by HRSA, HHS or the U.S. Government.

About Fayetteville State University
Fayetteville State University is a constituent institution of The University of North Carolina and the second-oldest public institution of higher education in the state, having been founded in 1867. FSU is a historically black university offering degrees at the baccalaureate, master's, and doctoral levels. With more than 6,300 students, Fayetteville State University is among the most diverse institutions in the nation. To learn more about Fayetteville State University, visit https://www.uncfsu.edu.