Arnisha Cosby Named Preseason All-CIAA Tennis; FSU Predicted to Finish Fourth
Date: February 01, 2020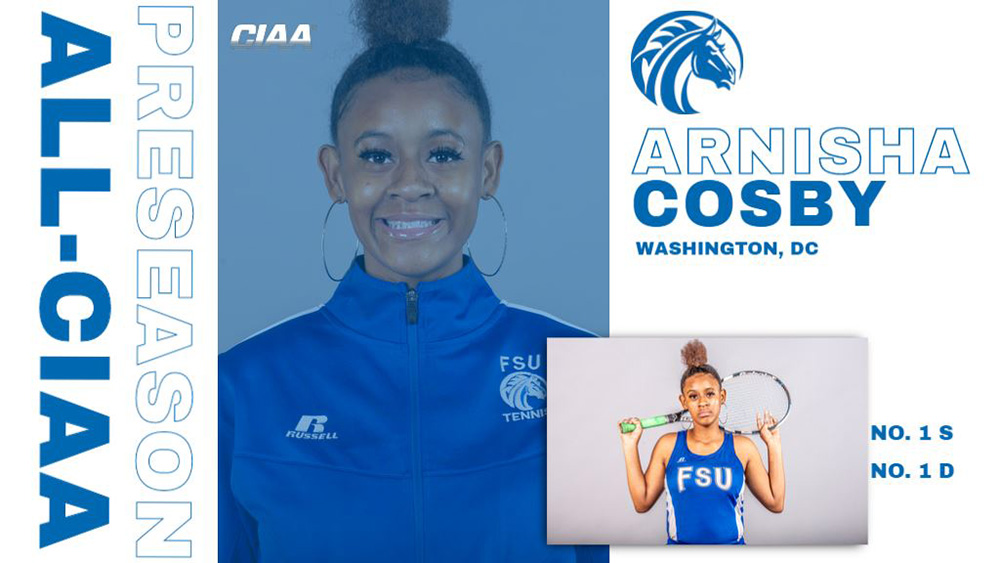 The Central Intercollegiate Athletic Association (CIAA) announced the 2020 All-CIAA preseason tennis team, as voted on by the CIAA Tennis Coaches Association and Sports Information Directors Association, as well as the predicted order of finish as selected by the head coaches.
Fayetteville State sophomore Arnisha Cosby (Washington, DC) will highlight the 2020 preseason team after earning All-conference honors at the conclusion of the 2019 season. Cosby finished last season with a 12-4 overall and 9-2 CIAA record at the No. 2 Singles position. Paired with Kayla Williams at No. 1 and No. 2 Doubles, the duo had a 6-8 overall record, which includes a 5-5 record at the No. 1 spot.
Fayetteville State qualified for CIAA Championship play last season and finished with a 7-10 overall and 6-7 CIAA record. Seven players return on the roster from last year. The 2020 season will swing into action on February 8th when the Broncos visit Methodist University in Fayetteville.
2020 All-CIAA Preseason Tennis Team
Arnisha Cosby, Fayetteville State
Halle Parker, Johnson C. Smith
Aria Springfield, Johnson C. Smith
Jada Strickland, Johnson C. Smith
Cierra Turner, Johnson C. Smith
Kundai Manyonga, Shaw
Helena Fekete, Shaw
Siria Dibe, Shaw
Christina Washington, Virginia State
Tay'lor Champion, Winston-Salem State
Kyrsten Jenelle, Winston-Salem State
Avion Harris, Winston-Salem State
2020 CIAA Tennis Predicted Order of Finish
1. Johnson C. Smith
2. Shaw
3. Winston-Salem State
4. Fayetteville State
5. Virginia State
6. Bowie State
7. Elizabeth City State
8. Livingstone
9. Virginia Union