Bennett, Hosch Among Candidates for Lowe's Senior CLASS Award
Date: January 14, 2020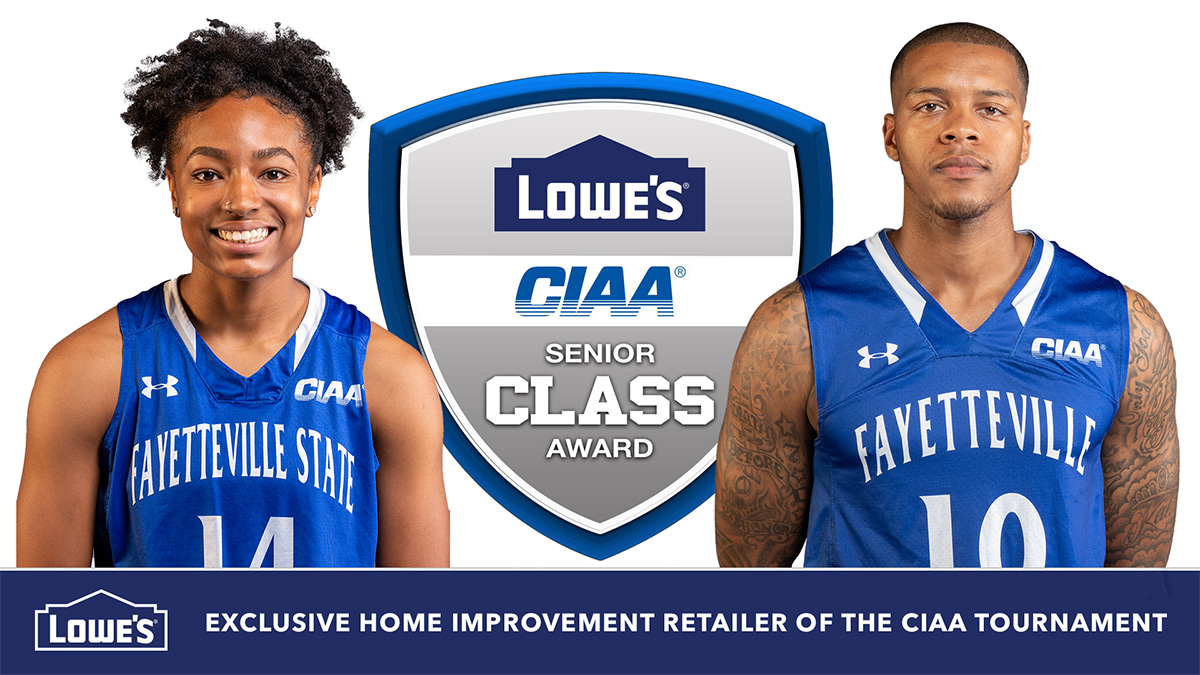 FAYETTEVILLE, N.C. (January 9, 2020) – Fayetteville State University (FSU's) women's basketball senior guard Shantel Bennett and men's basketball senior guard Denzell Hosch are among 22 Central Intercollegiate Athletic Association (CIAA) basketball student-athletes selected as candidates for the 2020 CIAA Lowe's Senior CLASS Award® as announced by the conference office on Monday.
An acronym for Celebrating Loyalty and Achievement for Staying in School®, the Senior CLASS Award focuses on the total student-athlete and encourages students to use their platform in athletics to make a positive impact as leaders in their communities.
To be eligible for the award, a student-athlete must be classified as a senior and have notable achievements in four areas of excellence: community, classroom, character and competition.
Shantel Bennett, a native of Sanford, NC, has maintained a 3.0 or better grade-point-average throughout her collegiate career and has earned Dean's List honors each semester. Since arriving on campus, Bennett has been influential on the team with her work ethic and leadership. She serves as a mentor to her younger teammates as they adjust to college life on and off the court.
During her four seasons, Bennett and the Broncos have participated in a variety of community service initiatives; which include reading to kids at FSU's daycare center, volunteering at the local recreation center, helping with local churches' events, and most recently helping build a playground at a local recreation center.
Bennett has been honored as a preseason all-conference, an all-tournament honoree, and the team's Most Valuable Player thus far in her collegiate career of playing basketball.
Denzell Hosch (Shelby, NC) was one of 21 student-athletes at Fayetteville State to receive the D2 Athletics Directors Association (D2 ADA) Academic Achievement Award. This past spring, Hosch graduated Magna Cum Laude with a bachelor's degree in Management Information Systems. He is currently pursuing his MBA with Project Management as the concentration. Prior to FSU, Hosch served 5.5 years in the US Army. He made the rank of Sergeant in less than three years.
Hosch teamed up with his hometown city of Shelby and the Holly Oak Park to host youth basketball sessions. This past October, he assisted the City of Fayetteville, in conjunction with the CarMax Foundation, in building a new $100,000 playground for kids in the surrounding Fayetteville State community.
Hosch scored his 1,000th career point during last season's CIAA Basketball Tournament game against Bowie State. This year, he is a team captain.
Fan balloting will take place January 21st through February 10th at LowesCIAASCA.com.
The male and female winners will be announced during the 2020 CIAA Basketball Tournament in Charlotte, North Carolina, and presented with the prestigious Senior CLASS Award trophy during the championship games on Saturday, February 29.
For full release and list of the 22 candidates, visit https://theciaa.com/news/2020/1/6/general-release-mens-and-womens-basketball-candidates-announced-for-the-2019-20-lowes-ciaa-senior-class-award.aspx.