Fayetteville State University Online Program Tops In North Carolina
Date: June 26, 2018
Fayetteville State University (FSU) has been selected by Best Value Schools as the Best Online College in North Carolina. Best Value Schools said it compiled the list of the top universities and colleges in North Carolina to give prospective students the best chance at having a great education.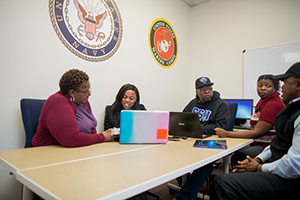 According to Best Values Schools, some schools may excel at online programs while others may focus exclusively on the traditional, on-campus aspect of higher education. Regardless of the delivery format, the schools selected for the list excel at providing a quality education for their students. Best Value Schools also noted that the selected universities provide quality and expert online education to anyone in a nontraditional setting, allowing any type of student to learn and achieve, regardless of circumstance.
"This is great recognition for Fayetteville State University," said Chancellor James A. Anderson. "One of the strategic priorities of the University of North Carolina System is to provide access and affordability for students who are seeking a quality education. Fayetteville State University is doing just that by offering first-rate educational programs both online and in a traditional setting. Our goal is to be not only the preeminent institution in the state in terms of online education, but also one of the best in the nation. This recognition tells us that we are well on our way to achieving this goal."
The top five schools in North Carolina are: FSU, University of North Carolina at Charlotte, Western Carolina, North Carolina Central University, and East Carolina University.
About Fayetteville State University
Fayetteville State University is a constituent institution of The University of North Carolina and the second-oldest public institution of higher education in the state, having been founded in 1867. FSU offers degrees at the baccalaureate, master's, and doctoral levels.
Undergraduate degrees at Fayetteville State University are offered to students as degree completion programs, allowing individuals who have completed two years of study to finish their North Carolina degree online. Degrees at Fayetteville State University are regularly recognized for their excellence. FSU also offers students a rolling admission, allowing them to apply at any time. Learn more at https://www.uncfsu.edu/becoming-a-student.
With more than 6,200 students, Fayetteville State University is among the most diverse institutions in the nation. Chancellor James A. Anderson is the 11th chief executive officer.
For more information, call (910) 672-1474 or email jwomble@uncfsu.edu.