Broadwell Speaker Series Continues November 12
Date: October 15, 2019
Fayetteville State University's (FSU) Broadwell College of Business and Economics (BCBE) continues its Broadwell Entrepreneurship Speaker Series with "E-Fluenced" on November 12, 2019. The event will be held from 6 to 8 p.m. in Room 242 of the Rudolph Jones Student Center. The event is open to students, faculty, staff, and the community.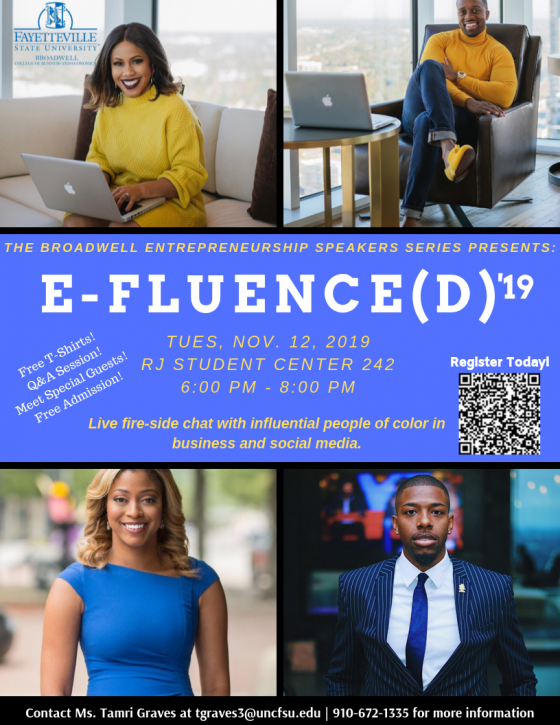 This event highlights various entrepreneurs and companies of the North Carolina, Cumberland County, Fayetteville region. Its purpose is to expose students to the influential individuals in our community and beyond. Guest panelists will be George and Majesty Acheampong, and Colby Cornell Boone, a recent North Carolina A&T State University graduate and founder of Journey of Mind, Inc. All guest panelists are entrepreneurs and popular social media influencers.

The Broadwell Entrepreneurship Speakers Series event is a free evening event hosted by the BCBE faculty and staff. The goal of the series is to bring community leaders to enlighten, uplift and encourage stimulating conversation with university students. The conversation focuses on themes and topics as they relate to personal experiences as people of color in business and on social media.

To register for the event, click on the link below or contact Tamri Graves at tgraves3@uncfsu.edu for more information.

https://forms.office.com/Pages/ResponsePage.aspx?id=9ObhsvFkckidocqKmnxB9yHgGX-urB9Om2sRMzIr-qFUQlVINVM4OTBKSTIyQzg5V0M5MFlCVVhFMi4u

About Fayetteville State University
Fayetteville State University is a constituent institution of The University of North Carolina System and the second-oldest public institution of higher education in the state, having been founded in 1867. FSU is a historically black university offering degrees at the baccalaureate, master's, and doctoral levels. With more than 6,500 students, Fayetteville State University is among the most diverse institutions in the nation. To learn more about Fayetteville State University, visit https://www.uncfsu.edu.