FSU and Brunswick Community College Partner on $10k Pathway Degree
Date: June 11, 2019
Dr. James A. Anderson, Chancellor of Fayetteville State University (FSU), and Dr. Gene Smith, President of Brunswick Community College (BCC), signed an agreement today that permits BCC associate degree graduates to complete an online bachelor's degree at FSU at a total cost of no more than $10,000 in out-of-pocket expenses, or approximately $5,000 at BCC and $5,000 at FSU. Students eligible for federal and state grants will likely pay less than $10,000 out of pocket.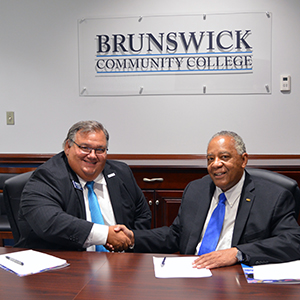 The $10K Pathway Plan opens the door to affordable bachelor's degrees to BCC graduates in these programs: Accounting, Birth through Kindergarten (non-teaching), Business Administration (General), Criminal Justice, Fire and Emergency Services Administration, Intelligence Studies, Nursing, Interdisciplinary Studies, Psychology, and Sociology.

"Fayetteville State University is excited to partner with Brunswick Community College to offer one of the nation's most affordable pathways to a bachelor's degree," said FSU Chancellor James Anderson. "Both FSU and BCC are committed to putting higher education within reach of every North Carolinian."

Brunswick Community College is very excited about the opportunities the $10K Pathway Degree provide for our students seeking to continue their education at Fayetteville State University. Through this partnership, our students will be able to take advantage of one of the most affordable and flexible pathways to their bachelor's degree.

About Fayetteville State University
Fayetteville State University is a constituent institution of The University of North Carolina and the second-oldest public institution of higher education in the state, having been founded in 1867. FSU offers degrees at the baccalaureate, master's, and doctoral levels. With more than 6,200 students, Fayetteville State University is among the most diverse institutions in the nation. Chancellor James A. Anderson is the 11th chief executive officer. To learn more about Fayetteville State University, visit https://www.uncfsu.edu.

About Brunswick Community College
Brunswick Community College (BCC) provides opportunities for individuals to be successful through accessible, high-quality programs and services that meet the educational, cultural and workforce development needs of Brunswick County. The wide variety of programs offered at BCC give students the opportunity to explore different career options and have the ability to enter the career path of their choice. To learn more, visit online at www.brunswickcc.edu.