CDHS and Criminal Justice Collaborate with FBI for Paid Internships
Date: November 01, 2018
On September 24-25, 2018, Fayetteville State University's (FSU) Center for Defense and Homeland Security (CDHS), in partnership with the FSU Department of Criminal Justice, brought recruiters from the FBI to promote their 2019 Honors Internship Program and Collegiate Hiring Initiative.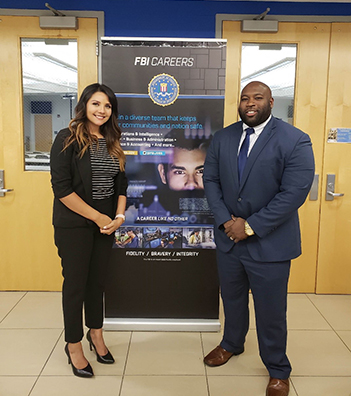 Their 10-week paid internship for undergraduate and graduate students offers an unparalleled opportunity to work alongside FBI employees and get a head start on an exceptional career. Applications were open through October 14th.

Representatives from the FBI's National Recruitment Team were on campus to host an information session and to conduct personal interviews in search of FSU applicants. FBI internships are not major specific; therefore, the application and information sessions were open to all degree fields. For students to sign up for an in-person interview, they were required to attend one of four mandatory FBI prep workshops. Due to the events of Hurricane Florence, these workshops had to be held on one day, September 24th, 2018. Mose Harris IV, CDHS Program Manager for Federal Internships, and Professor Anna Perez, Lecturer and Criminal Justice Internship Coordinator, hosted the workshops.

"Because the interview is a requirement for all applicants and the fact there were over 15,000 applicants who applied to the 2018 Honors Internship Program and Collegiate Hiring Initiative, we wanted to ensure FSU students were well prepared to take full advantage of this incredible opportunity" Harris said.

According to junior Intelligence Studies major and FBI interviewee Julius Brittman, "the workshop helped a lot and I feel that I can apply the tools given to succeed within any other application process I may have to handle."

On the evening of September 24, there was a campus-wide information session held by the FBI's National Recruitment Team. More than 100 students were in attendance. "I was impressed with the incredible student turnout given the number of obstacles that occurred in lieu of Hurricane Florence. Majors across all disciplines were represented at this event, which led to a diverse hiring pool" said Perez.

"The FBI's visit to Fayetteville State University was extremely informative. During the info session with the FBI team, I came to understand that one does not just have to be an agent, they can potentially explore a plethora of careers within the Bureau," said Brittman.

Among the 115 students who attended the workshops and information sessions, 37 qualified candidates interviewed with the FBI Recruiting Unit with hopes of securing an internship for Summer 2019. "It was a great experience meeting with the FBI and learning so much more about them. It was also a great experience getting to do my first federal interview in that it helped me get over the initial fear of interviewing and to learn about what they will ask and are looking for when I pursue a full-time position" said senior criminal justice major Nicollette Brown.

"After this awesome experience, we look forward to visiting Fayetteville State University again in the future," said the lead of the FBI's National Recruitment Team.

About Fayetteville State University

Fayetteville State University is a constituent institution of The University of North Carolina and the second-oldest public institution of higher education in the state, having been founded in 1867. FSU offers degrees at the baccalaureate, master's, and doctoral levels. With more than 6,300 students, Fayetteville State University is among the most diverse institutions in the nation. Chancellor James A. Anderson is the 11th chief executive officer.