Chalmers is Fayetteville State University's director of bands — Leads acclaimed Marching Bronco Xpress, Pep Bands, Ensembles
FSU named Austin R. Chalmers as director of bands and lecturer in the Department of Performing and Fine Arts effective August 1, 2022.
Date: August 30, 2022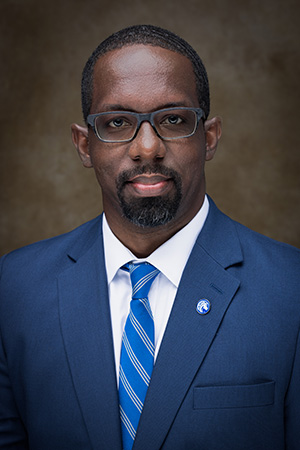 Fayetteville, NC (August 30, 2022) Fayetteville State University (FSU) named Austin R. Chalmers as director of bands and lecturer in the Department of Performing and Fine Arts effective August 1, 2022.
Chalmers directs the Marching Bronco Xpress and conducts the FSU Symphonic Winds, Wind Symphony and University Pep Band. He began teaching at FSU in 2019 as assistant director of bands and lecturer, conducting instrumental ensembles and teaching classes in music education, conducting, music technology and instrumental methods. He then served as interim director of bands in 2021.
Prior to joining FSU, Chalmers was a band director in the Cumberland County School system (CCS) at Westover High School for 10 years. There, he oversaw a comprehensive band program that produced superior-rated concert bands and chamber ensembles in addition to an award-winning marching band. He was named the 2015 CCS All-County High School Band guest conductor and was president of the Cumberland County Band Directors Association for two years.
"We are delighted to have Austin Chalmers leading our celebrated bands and teaching music at FSU," said Monica T. Leach, Ed.D., provost and senior vice chancellor for academic affairs. "Not only is he one of Fayetteville's native sons, he also brings a wealth of talent, experience and enthusiasm to the post that inspires our students and enriches FSU's storied tradition of excellence in our performance ensembles. We look forward to seeing the Marching Bronco Xpress perform on game days as well as hearing much more from all our talented ensembles."
Chalmers is a native of Fayetteville, North Carolina, specifically the FSU/Murchison Road community. He is a 2002 graduate of E. E. Smith High School where he was a member of the Magnificent Marching Machine. He earned his bachelor's degree in music from North Carolina Central University and completed his master's degree in music education from the University of North Carolina at Greensboro.
Chalmers's professional affiliations include the National Association for Music Education, the College Band Directors National Association, HBCU Band Directors Consortium, Kappa Kappa Psi National Honorary Band Fraternity, Inc., Phi Mu Alpha Sinfonia Fraternity of America, Inc. and Kappa Alpha Psi Fraternity, Inc. He and his wife, Shanelle Chalmers, have one son, Grayson.