Chancellor Allison Begins First Day as FSU's 12th Chief Executive Officer
Date: March 15, 2021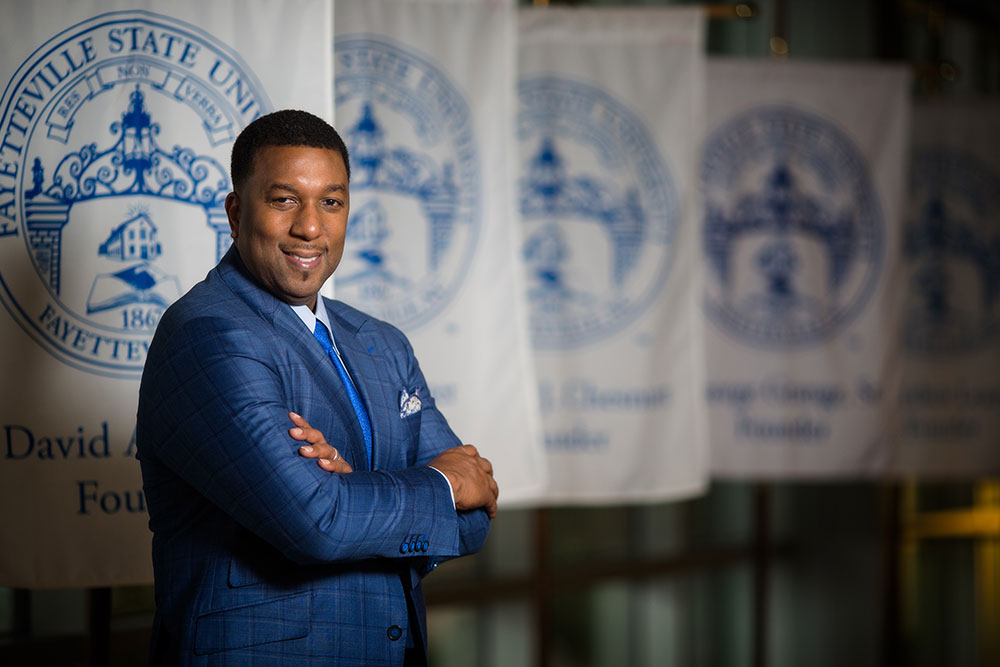 Darrell T. Allison took the helm today as the 12th Chancellor of Fayetteville State University (FSU). Chancellor Allison was named to the post on February 18, 2021 by University of North Carolina System President Peter Hans and the University of North Carolina Board of Governors.
"On behalf of the Board of Trustees, we welcome Chancellor Allison as part of the Bronco family," said Chair Stuart Augustine. "We look forward to him leading Fayetteville State University to new heights and to making our institution among the best in the nation. We are confident in his abilities to move FSU in the right direction."
Allison spent his first day on the job meeting with members of his leadership team, taking a tour of the campus, and meeting and greeting with students, faculty, and staff. Chancellor Allison also met with members of the FSU National Alumni Association (NAA) where he became a Life Member. He presented NAA President Richard Kingsberry with a personal check for $1,000 to become a lifetime member.
"I think it's important for me to show my commitment to this university and its alumni, and one way to do that is by being an active member of the National Alumni Association," Chancellor Allison said. "I am committed to working with the NAA and all of our alumni to help build upon FSU's great legacy. I truly believe that our collective efforts can make a great university even greater."
Chancellor Allison earlier outlined his plans for moving FSU forward. His vision includes:
Advancing FSU's work in educating military-affiliated students, where FSU ranks 4th out of 16 within the UNC System institutions
Preparing students for careers ahead by making significant investment in FSU's Office of Career Services
Ensuring the university remains one of the most affordable universities in North Carolina
Sharing ideas and listening intently to stakeholders
"I look forward to working with Mr. Allison to ensure that he keeps the students' best interest at heart in his decisions," said Sydney Harris, president of the Student Government Association. "The Student Government Association will continue its work with other Black Colleges and Universities to ensure equity within the UNC System as well."
Allison will spend this week hosting a series of town hall sessions where he will engage students, faculty, and staff to share their innovative ideas and other suggestions that can enhance the programs and opportunities at FSU.