Chancellor Announces $1.5 Million Investment in FSU Residence Halls
Date: May 10, 2021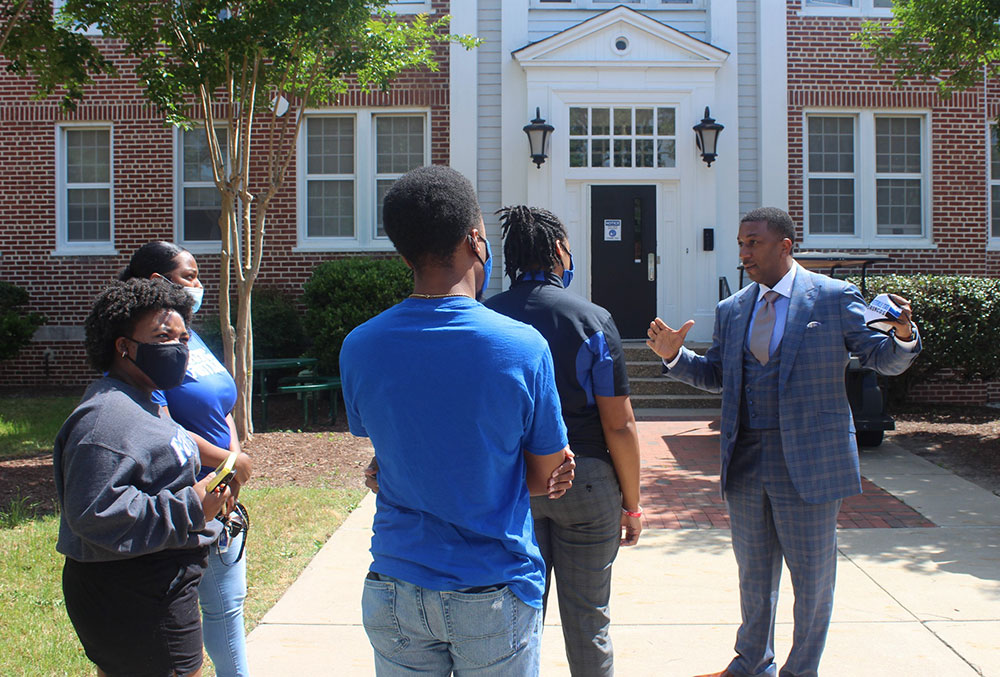 Fayetteville State University (FSU) Chancellor Darrell T. Allison announced the university's investment of $1.5 million for renovations and repairs to seven residence halls. This is the second phase of a plan to enhance student life on campus. Last week Allison toured the residence halls with students and announced the construction of outdoor basketball courts.
"When I arrived in March, I listened to concerns coming from students and student leaders. This $1.5 million investment in upgrading our residential halls and the investment in providing our students with an outdoor basketball facility are things they asked for. This is just the beginning in our efforts to improving FSU facilities and providing a better quality of life for our students," Allison said. "The university recently invested $4.7 million in a Summer School program, that offers free summer classes, room and board, and textbooks for eligible freshmen, sophomores, and juniors who want to graduate on time. We want our students to know that we support them and are here to assist in any way that we can."
Improvements to the residence halls will take place this summer and include McLeod, Renaissance, New Residence, Hackley Honors, Hood, Joyner, and Smith. The work includes interior painting, new flooring and tiling, upgrades to light fixtures, and new furniture. This project will be completed by fall 2021.
To assess the repairs that needed to be done, Allison, FSU students, and employees from Facilities Management took a tour of the residence halls. Allison wanted to hear from the students about any concerns and ideas that they had.
"What I appreciate most about going on this tour with the Chancellor was the fact that we were there taking it in the first place," said junior Ahmahd Moore. "He asked for our input and found a solution for every issue that we brought to him. What I am looking forward to most is the fact that the halls will be in FSU's spirit color. That will make the place way more alive."
"Going on the tour with the Chancellor allowed me to see the dormitory improvements he has in store for us next fall," said Junior Brianna Alston. "I'm looking forward to the Hackley Hall improvements for the incoming honors students."
Repairs to the residence halls are just one of many projects on the horizon at FSU:
Demolition of Vance and Bryant halls to being October 2021
Construction of the new Health and Wellness Center to begin January 2022
FSU outdoor basketball courts to be completed in fall 2021