Chancellor-Elect Holds Meetings with University Stakeholders
Date: March 11, 2021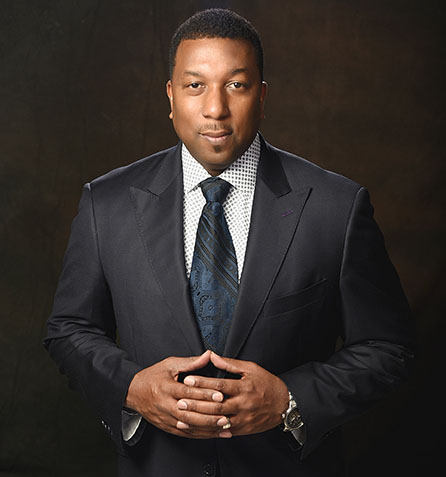 In an effort to share his vision and plans for Fayetteville State University (FSU), Chancellor-Elect Darrell T. Allison met with various stakeholders February 26 - March 4, 2021. The meetings were conducted in person, observing COVID-19 protocols, and via Zoom. Chancellor-Elect Allison was recently named the 12th Chief Executive Officer of FSU and will assume the position on March 15.
Chancellor-Elect Allison met with approximately 250 alumni, faculty, staff, and students to discuss his goals for FSU, and answer questions about his plans to move the institution forward. Stakeholders asked an array of questions ranging from the need for resources and support for university athletics.
"The Staff Senate had an opportunity to meet with the Chancellor-Elect in a Zoom meeting," said Patricia Flanigan, chair of the Staff Senate. "We appreciated the graciousness of the Chancellor-elect in sharing his personal story with us and answering a few of our questions. Having heard some of his plans for FSU for the first time, we now have the opportunity to discuss among ourselves how his plans may affect the staff senate, and the general staff population of FSU moving forward."
These meetings with stakeholders were just the first in a series of listening and learning sessions with Chancellor-Elect Allison. His first week at FSU will include a series of Town Halls with students, faculty, staff, and alumni, and provide an opportunity for stakeholders to share their visions for FSU. During week one, he also plans to visit with city and county officials, meet with alumni and community members, and take a tour the city of Fayetteville.
"I am excited to become a part of the Bronco family and determined to do everything within my power to add on to the rich traditions and success of this university," said Chancellor-elect Allison. "As a collaborative leader, I look forward to engaging with students, faculty, staff, alumni and community members," said Chancellor Allison.
Chancellor-Elect Allison is an avid supporter of HBCUs and was a leader on the UNC Board of Governors' Committee on Historically Minority-Serving Institutions. As the inaugural chair of the Historically Minority-Serving Institutions (HMSI) Committee, he helped lead efforts resulting in all 17 campuses gaining at least $2 million for repairs and renovations - an investment that specifically benefited HBCUs and the System's smaller institutions. Allison advocated for a multi-million-dollar upgrade for fundraising software and data management for the universities, which ushered in cost savings and strengthened fundraising programs.
Chancellor-Elect Allison also initiated a partnership with the UNC NC Policy Collaboratory, which awarded $6 million for COVID-19 programming and research at historically minority-serving institutions - $1 million that went directly to FSU's COVID-19 testing sites and activities.