Chancellor's Distinguished Speaker Series Continues With Noted Attorney Benjamin Crump
Date: October 15, 2018
Attorney Benjamin Crump, known for representing clients in some of the nation's most high-profile cases to include Trayvon Martin, will speak at Fayetteville State University (FSU) on November 13, 2018, at 6 p.m. in J.W. Seabrook Auditorium. Sponsored by the Delta Gamma Chapter of Omega Psi Phi Fraternity, Inc., the appearance is in conjunction with the Chancellor's Distinguished Speaker Series. The event is free and open to the public.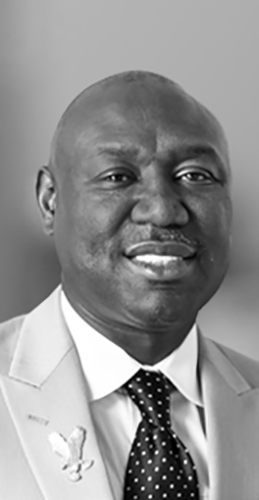 Crump has gained national fame for representing clients in some of the most important and contentious cases of our time, taking a place in legal history with his pursuit of justice. His role in the Trayvon Martin, Martin Lee Anderson Boot Camp, Jannie Ligons (State of Oklahoma vs. Daniel Holtzclaw) and Robbie Tolan cases shows a legacy built around the idea that the Constitution applies to everyone, at every level of society.

Crump has broken barriers in several legal organizations, serving as the first African-American President of the Federal Bar Association for the Northern District of Florida and the first African-American Chairman of the Florida State University College of Law Board of Directors. He is a member of the American Bar Association, American Association for Justice, The Florida Justice Association, and many other groups dedicated to the law and the pursuit of justice.

Crump is a frequent speaker and author, having been featured in documentaries like NPR's "How Lawyer Got Nation Talking About Trayvon Martin," and BET's "I Am Trayvon Martin: A Family's Fight for Justice."

Crump is also a frequent contributor to Time magazine, discussing many of the civil rights and criminal justice issues African-Americans face today. He has received significant recognition for his service in pursuit of civil rights and justice for minorities, being included on prestigious lists like The National Trial Lawyers' Top 100 Lawyers and Ebony Magazine's Power 100 Most Influential African Americans. He has also received the National Urban League's Whitney Young Award, AKA's Eleanor Roosevelt Award, the NAACP Thurgood Marshall Award, and the SCLC's Martin Luther King Servant Leader Award.

Crump is heavily involved in his community, having previously endowed scholarships to Florida A&M University, Livingston College, Florida State University, and Bethune Cookman University for minority law students. He also serves as the president and co-founder of MyDad360, a mentoring program for fathers endorsed by Colin Powell and recognized by President Obama's My Brother's Keeper Initiative. He is a Life Member of the Omega Psi Phi Fraternity, the Southern Christian Leadership Conference, the NAACP, and the Urban League.

He previously served as the inaugural Board Chairman of Florida's Big Bend Fair Housing Center and served as General Counsel to the Florida State Conference of the NAACP and sat on the boards of the Innocence Project and the Equal Justice Institute.

Crump was born and raised in Lumberton, North Carolina, and is the oldest of nine siblings and step-siblings. He received his undergraduate and law degrees from Florida State University.

About Fayetteville State University
Fayetteville State University is a constituent institution of The University of North Carolina and the second-oldest public institution of higher education in the state, having been founded in 1867. FSU offers degrees at the baccalaureate, master's, and doctoral levels. With more than 6,300 students, Fayetteville State University is among the most diverse institutions in the nation. Chancellor James A. Anderson is the 11th chief executive officer. To learn more about Fayetteville State University, visit https://www.uncfsu.edu.