Fayetteville State University Master of Business Administration Class Answers Printing Question for City of Fayetteville
Date: October 30, 2018
Earlier this year, the City of Fayetteville was faced with a question that needed an answer. Do they outsource their printing services, or do they do them inhouse?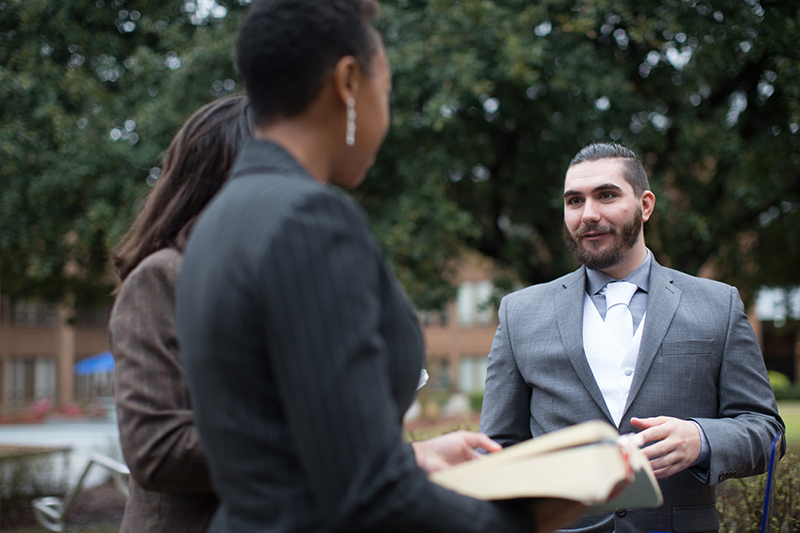 It was a question that required extensive research, something that they had little time to conduct. So, what did they do? They turned to Dr. Paul Richardson, a graduate faculty member in the Master of Business Administration program at Fayetteville State University (FSU), and students in his BADM 680 Capstone Project class. In this course, students work as consultants to analyze and make recommendations to resolve a problem in a local organization related to their specialization. Students are instructed in organizational theory, consulting skills, and techniques for acquiring the tools to solve specific problems.

City of Fayetteville Officials hoped that the students could conduct the research and provide feedback on the best possible solution to their printing question. The students did the research and presented their findings to city officials, who were quite pleased with what they saw and heard.

"Top-notch presentation, excellent analysis, and very good feedback and recommendations," said Kevin Arata, Corporate Communications Director for the City of Fayetteville. "The team did an excellent job of coming up with and fully evaluating options for our consideration, so much so that my thoughts on which direction to take have changed."

Before the students completed the study, Arata was content with keeping the current mode of operations. But after seeing the students' analysis related to the potential cost saving, especially over the long-term, he had a change of heart.

"I see now why it is prudent to outsource the print shop, which is what I will recommend to our City Manager, Arata said. "Along with the outsource, I likely will recommend some type of quality control/oversight of the product approval before it is printed."

Arata not only was pleased with the recommendation of the group, he was equally impressed with how they delivered the material.

"This is exactly the type and level of product that I was hopeful to receive; to assist us in making an informed and rational decision about the future of our print shop operations."

Ron Duffer from FSU's Small Business Technology Development Center (SBTDC) acted as a facilitator/liaison for the student teams and the client. During the project formation phase, teams meet with the client to create and maintain a timeline that will consist of client meetings, team meetings, report submissions, final presentation, and any other relevant activity, like an actual consultant. The purpose of the timeline is to show what the team's plan is regarding engaging the client, client expectations, and carrying out course requirements.

Dr. Lee Brown, Interim Dean of the Broadwell College of Business and Economics, said the capstone course is meant to be a culmination of all of the work our students have done during the program.

"We expect the students to be able to apply their acquired business knowledge and skills to a complex, real-world problem and provide actionable solutions and/or analysis," Brown said. "These students provided expert support to their client in every phase of the consultancy, from project discovery to solution delivery. This display of business acumen and professionalism has been typical of our students in the capstone course."

About Fayetteville State University

Fayetteville State University is a constituent institution of The University of North Carolina and the second-oldest public institution of higher education in the state, having been founded in 1867. FSU offers degrees at the baccalaureate, master's, and doctoral levels. With more than 6,300 students, Fayetteville State University is among the most diverse institutions in the nation. Chancellor James A. Anderson is the 11th chief executive officer. To learn more about Fayetteville State University, visit https://www.uncfsu.edu.