Fayetteville State University Hosts Third Annual Community Partners Appreciation Luncheon
Date: May 01, 2018
The Fayetteville State University (FSU) offices of Constituent and Community Relations, directed by Mr. Wesley Fountain, and Civic Engagement and Service Learning, directed by Dr. Sherree Davis, hosted their 3rd annual Community Partners Appreciation Luncheon on Tuesday, April 10, 2018.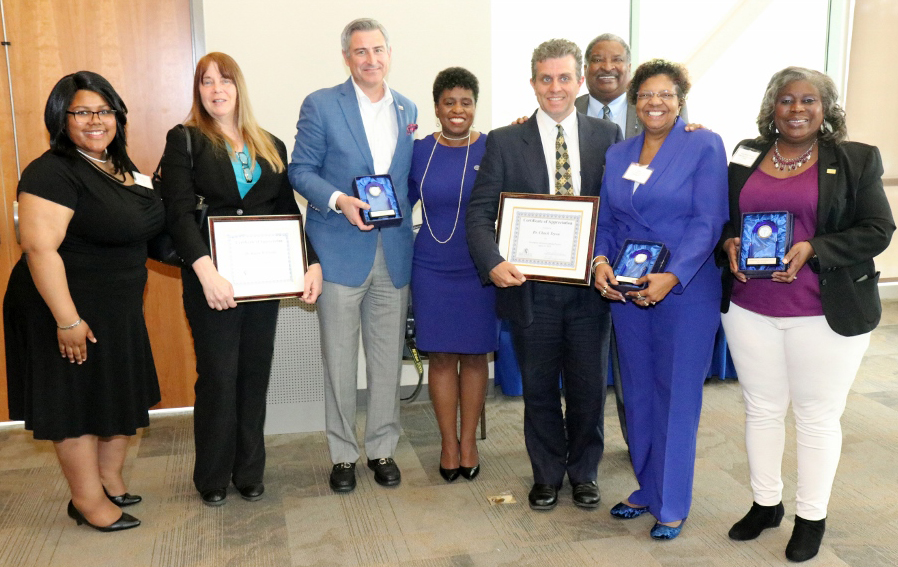 With approximately 150 in attendance, this annual event again provided an opportunity for FSU to express appreciation to various community organizations and agencies for their partnerships and collaborative efforts. Community partner representatives were from non-profit, for-profit, and government organizations, and included local elected officials, along with FSU faculty, staff, and administrators.

This year, the event included a keynote speaker, the Honorable Glenn B. Adams of the Cumberland County Board of Commissioners. He emphasized how community service and partnerships that are both strategic and collaborative can uniquely address important societal needs and concerns in Cumberland County.

Select students, community organizations, and faculty members were recognized for their contributions to the campus and local community.

Ms. Alicia Williams, an FSU student, was recognized for receiving the North Carolina Campus Compact Student Community Impact Award for outstanding leadership and service. Ms. Williams is one of 23 students in the state of North Carolina selected for this honor.

The Fayetteville State University Early Childhood Learning Center directed by Mrs. Gloria Moore Carter was given the Continuous Partnership Award to recognize their longevity and ongoing partnership, since 2010, with the FSU and the Office of Civic Engagement and Service Learning. They have provided service learning and volunteer opportunities for more than 336 FSU students who have completed over 5,190 hours of service over the past six years.

Exemplary Service-Learning Awards were presented to Dr. Chuck Tryon, Associate Professor,
Department of English, in recognition for teaching English 232: Film and Media Literacy. He has taught this course 11 times since fall 2013 in which students not only learn about documentary film making but also work with local organizations, FSU students, faculty, and staff to create their own documentary films.

Service-Learning Impact Awards were given to Mrs. Crystal Williams, Community Impact Director of the United Way of Cumberland County and Dr. Karen McElrath, Dudley E. Flood Endowed Professor of Criminal Justice for her service-learning students collaboration and participation in the 2017 Annual Community Homeless & Hunger Stand Down hosted by the United Way of Cumberland County.

The FSU Office of Constituent and Community Relations, recognized the 219 Group, directed by Mr. Kirk deViere, with an Exemplary Service Award.

The FSU Office of Community and Government Relations acts as an advocate for the university of the federal, state, and local levels. This includes monitoring legislation related to higher education, working with legislators and their staff to influence public policy and helping to increase awareness of the university's educational and research programs. The office serves as the principle liaison and the point of contact between the university and all levels of government.

The FSU Office of Civic Engagement and Service Learning (CESL) supports student engagement in civic life and academically based service learning to promote ethical and social responsibility and university engagement, providing public service and outreach in compliance with the FSU Core Curriculum, FSU Strategic Plan, and UNC Strategic Directions.