Fayetteville State University Department Chair Honored by NCSU with Young Alumni Award
Date: November 27, 2018
Dr. Constance Lightner, associate professor of management and chair of the Department of Management, Marketing and Entrepreneurship in the Broadwell College of Business and Economic at Fayetteville State University (FSU), received the Outstanding Young Alumni Award and delivered the keynote address at the special ceremony held by North Carolina State University's (NCSU) College of Engineering, Department of Industrial and Systems Engineering on Friday, November 2, 2018.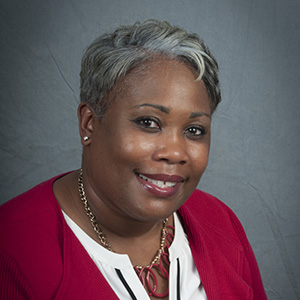 The Outstanding Young Alumni Award recognizes alumni who have distinguished themselves through professional practice and/or service to their university, profession, or community at large.

Lightner graduated from NCSU with master's and doctoral degrees in 1997 and 2000, respectively in operations research and industrial engineering. She received her bachelor's degree from Norfolk State University in 1994.

Lightner has received numerous university teaching awards during her 19 years at FSU. In 2008, she was recognized as a recipient of the UNC Board of Governors Excellence in Teaching Award. She has served as a consultant to various organizations including the City of Fayetteville and the United Way of Cumberland County. Her research interests include optimization, evolutionary programming, and statistical analysis.

"You can look at her career at Fayetteville State University and see the great work she has been doing to educate students of tomorrow," said Professor Julie Swan, chair of the Edward Fitts Department of Industrial and Systems Engineering at NCSU. "Fayetteville State University has a more teaching focus than NC State and it is a university that holds special role to teach underrepresented minorities or first-generation college graduates. Dr. Lightner has served in various leadership roles including as department head. One of the reasons we selected her is because she can be a role model for other students. There are many different paths one can take after coming to NC State, and she had an excellence in her path and she did such an amazing job persevering, getting her PhD and changing other lives around her."

About Fayetteville State University
Fayetteville State University is a constituent institution of The University of North Carolina and the second-oldest public institution of higher education in the state, having been founded in 1867. FSU offers degrees at the baccalaureate, master's, and doctoral levels. With more than 6,300 students, Fayetteville State University is among the most diverse institutions in the nation. To learn more about Fayetteville State University, visit https://www.uncfsu.edu. Chancellor James A. Anderson is the 11th chief executive officer.