Fayetteville State University College of Education Dean Appointed to Teaching Fellow Commission
Date: July 15, 2019
Dr. Marion Gillis-Olion, Dean of the College of Education at Fayetteville State University (FSU), has been appointed to serve on the North Carolina Teaching Fellows Commission.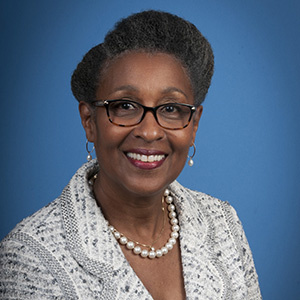 The re-establishment of the North Carolina Teaching Fellows Program holds great promise for building a stronger, more inclusive, and more effective education system. According to Sara C. Ulm, Director of the North Carolina Teaching Fellows Program of The University of North Carolina System Office, the Teaching Fellows Commission will have an enormous impact by selecting those students who will be offered an award and in ensuring the program's continued success.

Gillis-Olion has been employed at FSU since 1983. She has served as the Associate Vice Chancellor for Academic Affairs, SACS Liaison, and Director of Self- Study-another responsibility associated with the SACS accreditation process. She also has previously served as Provost and Vice Chancellor for Academic Affairs, Assistant Vice Chancellor for Academic Affairs, Chairperson of Elementary Education, and Dean of the School of Education (2002-2004). With over 32 years of academic administrative experience at FSU, she has a wealth of knowledge about the institution's mission, policies, and practices.

Gillis-Olion's educational background includes a BA from Kean University (formerly Newark State College) in Elementary Education with an emphasis in Reading, a MA from The Ohio State University in Reading with an emphasis on Early Childhood Education, and a Ph.D. also from The Ohio State University in Early and Middle Childhood with an emphasis on Reading and Organizational Change. In addition, she has attained teaching licenses in the states of New Jersey and North Carolina.

Her professional affiliations and accomplishments are many. She is a member of Phi Delta Kappa, Kappa Delta Pi, the International Reading Association, National Association for the Education of Young Children, and National Council of Teachers of English. She has extended her expertise to the National Council for Accreditation of Teacher Education (NCATE) Board of Examiners and Executive Board (Complaint Review Committee), NC State Department of Public Instruction Program Approval Team as a Committee Chair, and the American Association of Colleges for Teacher Education Board of Directors to name a few.

Gillis-Olion's scholarly activities include several publications on early childhood education, effective teaching, reading, special education, and assessment of culturally diverse exceptional children. She has presented recently on the topics of higher education assessment, accreditation, and critical thinking.

About Fayetteville State University
Fayetteville State University is a constituent institution of The University of North Carolina and the second-oldest public institution of higher education in the state, having been founded in 1867. FSU is a historically black university offering degrees at the baccalaureate, master's, and doctoral levels. With more than 6,300 students, Fayetteville State University is among the most diverse institutions in the nation. To learn more about Fayetteville State University, visit https://www.uncfsu.edu.