Fayetteville State University Participates in the Congressional Diversity in Tech Summit
Date: July 24, 2019
Washington, D.C. – Today, Fayetteville State University (FSU) joined the Congressional Bipartisan Historically Black Colleges and Universities (HBCU) Caucus for the second annual HBCU Diversity in Tech Summit, hosted at Howard University in Washington, DC. This annual event is the largest collaboration of government, industry and HBCU leaders.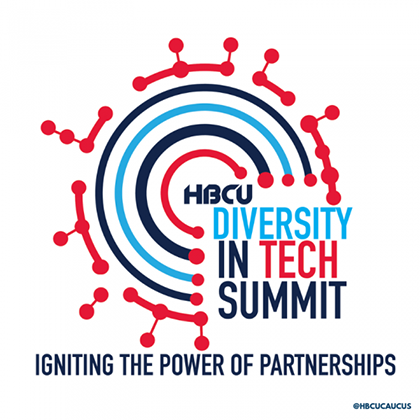 The Diversity in Tech Summit will bring together 47 companies, 34 HBCUs, and Members of Congress for collective conversations around tech diversity and preparing students of color for careers within emerging technologies such as blockchain, artificial intelligence and cybersecurity. Through two days of dynamic strategy sessions, participants will build sustainable partnerships to strengthen course curriculum, close the skills gap and create universal best practices for the recruitment and retention of HBCU graduates.

"FSU is proud to join the Congressional Bipartisan HBCU Caucus and leaders from the tech sector for the second annual Diversity in Tech Summit," said Dr. Pam Jackson, Provost and Vice Chancellor for Academic Affairs. "Our institutions are drivers of our local economies and help prepare our nation's students for 21st Century opportunities. HBCUs produce 42 percent of Black engineers and 47 percent of Black women engineers and are key to diversifying the tech industry. The Diversity in Tech Summit is a chance for us to work together with private sector stakeholders and create meaningful, long-term partnerships that will keep our schools sustainable for centuries to come and position our students as leaders in today and tomorrow's economy."

"HBCUs contribute nearly $15 billion to our annual economy and have provided pathways of opportunity to millions of Americans, many of whom are first generation college students. Despite being historically underfunded and under-resourced, these institutions continue to produce top talent, including 40 percent of my colleagues in the Congressional Black Caucus," said Congresswoman Adams, Founder and Co-Chair of the Bipartisan HBCU Caucus. "That is why the Diversity in Tech Summit is so important. There is no workplace diversity, especially within the tech industry, without HBCUs. I am proud to host the second annual Diversity in Tech Summit to build a well-prepared workforce that is diverse and inclusive."

"As our workforce needs continue to grow and evolve, it is essential that everyone has an opportunity to take part. Alabama's fourteen HBCUs and others throughout the country produce the first-class talent needed to keep our nation's tech businesses on the cutting edge," said Senator Doug Jones (D-AL), Co-Chair of the Bipartisan HBCU Caucus. "I am thrilled these industries have stepped up to further the conversation towards a truly inclusive workforce."

"Increasing technology opportunities and resources for our HBCUs will empower students to fill the estimated 557,100 new computing jobs created between 2016 to 2026," said Congressman French Hill (AR-2), Vice-Chair of the Bipartisan HBCU Caucus. "Strengthening partnerships with the tech industry puts our HBCUs in a better position to compete in the global market and creates a stronger, more diverse workforce here in the United States that will grow our local economies."

"Our technology sector here in the United States is leading innovation in countries across the world," said Congressman Marc Veasey (TX-33), Vice-Chair of the Bipartisan HBCU Caucus. "We need to make sure everyone is included in this industry, and I am proud to join Representative Alma Adams (NC-12) as co-chair of HBCU Caucus to ensure African-American students have the tools they need to succeed and help lead the technology sector into the next generation."

"HBCUs add immeasurable value to our country's higher education system, preparing nearly 300,000 students to be 21st century innovators," said Congressman Mark Walker (NC-6), Vice-Chair of the Bipartisan HBCU Caucus. "We are proud of the vital partnerships being cultivated between the technology industry and these prestigious institutions that are leading to access for students to be prosperous leaders at top companies."

"HBCUs are integral in preparing African-American students for jobs in competitive STEM fields, but it takes meaningful cooperation between the private and public sectors to truly ensure the tech sector reflects our nation's diversity," said Congresswoman Terri Sewell (AL-7), Vice-Chair of the Bipartisan HBCU Caucus. "Without engagement with HBCUs, industries miss out on a dynamic, well trained pipeline of diverse workers. That is why I am so proud that companies like those participating in the HBCU Caucus' Diversity in Tech Summit recognize the importance of a diverse workforce."

"Virginia and America benefit from a strong pipeline connecting HBCUs to key emerging technological industries," said Congresswoman Elaine Luria (VA-02). "With such great HBCUs in Virginia, I know diversity in the tech workforce strengthens our economy and our entire Commonwealth. This summit is a great step toward recruiting and retaining tech talent from all of our communities."

"Software.org and our supporting companies appreciate the opportunity to gather this week in Washington with HBCU representatives and the members of the HBCU Caucus," said Chris Hopfensperger, Executive Director of Software.org: the BSA Foundation. "Getting all sides to gather together - and work together - is key to the effort to build a stronger and more diverse workforce."

"Internet Association is proud to once again partner with Congresswoman Alma Adams and the Bipartisan HBCU Caucus for the Diversity in Tech Summit," said Michael Beckerman, Internet Association President & CEO. "The summit connects leaders in industry, academia, and policy to foster sustained relationships that improve the pipeline of diverse candidates who can participate in the internet industry. The industry recognizes the importance of having a diverse, inclusive workforce and that the best way to accomplish this is to work directly with the schools preparing students for the workforce of tomorrow."

Participating Schools & HBCU Advocacy Groups: Howard University, Florida A&M University, Fayetteville State University, Morehouse College , Bowie State University, Thurgood Marshall College Fund, Spelman College, North Carolina A&T State University, Bennett College, Central State University, Morgan State University, Barber-Scotia College, Shaw University, Fort Valley State University, FAMU-FSU College of Engineering, West Virginia State University, Tennessee State University, University of Maryland Eastern Shore, Alcorn State