Dr. Naadiya C. Hopkins Named Director of the Office of Student Engagement
Date: February 03, 2021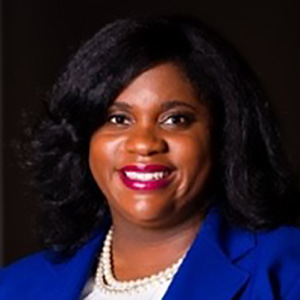 Dr. Naadiya C. Hopkins has been named Director of Student Engagement at Fayetteville State University (FSU). She is a direct report to the Vice Chancellor for Student Affairs.
She has been in the field of Higher Education for over 6 years, working in various areas of Student Affairs to include Residence Life, Career Services, Greek Affairs and has experience on the K-12 level as a STEM educator. Since joining the Division of Student Affairs team in 2019, Dr. Hopkins served as the Director of Student Leadership Development and Special Projects.
In her previous role, she was responsible for the direct oversight of over 75 clubs and organizations, created trainings and leadership development opportunities through the FSU Leadership Academy, and collaborated with various entities of the university to enhance the student co-curricular and extracurricular experience.
Dr. Hopkins's program oversight features various onboarding and retention initiatives to include Welcome Week Orientation and coordinating co-curricular programming for the FSU-LEAP summer bridge program. Her programmatic responsibilities allow her to connect with hundreds of students annually and help to fulfill the mission of the university and core competencies of the division.
Dr. Hopkins has also launched various retention and leadership focused initiatives to include Parent and Family Programs, which provides an avenue for parents and family members to learn how to support and celebrate their respective Bronco and the iLead1867 Podcast in collaboration with Bronco iRadio to provide another pathway for students to engage with various leadership topics and special guests.
"I am delighted Dr. Hopkins will serve as the Director of Student Engagement" states Dr. Juanette Council, Interim Vice Chancellor for Student Affairs. "She brings a wealth of knowledge to the Office of Student Engagement. Dr. Hopkins has a successful track record of developing creative co-curricular student engagement across a broad range of Student Affairs functional areas. This experience has prepared her well to provide the leadership to elevate and strategically integrate co-curricular programming to enhance campus life. As an alumnus, Dr. Hopkins also brings firsthand experience and knows what it takes to engage students and create transformational experiences which will enhance their professional and personal development and cultivate a lifelong commitment to FSU."
Dr. Hopkins received a dual Bachelor of Science degree in Biology & Biology-Education from Fayetteville State University and her Masters in Higher Education & Student Personnel from Kent State University with a certificate in Career Advising. Ms. Hopkins completed her doctoral degree in Educational Leadership with a concentration in Higher Education from Fayetteville State University. Her dissertation was titled "Athletics Administrators' and Coaches' Perspectives and Experiences Related to Student-Athletes' Engagement in Social Activism". She has presented her research at several conferences including the Black Student-Athlete Summit, the Georgia Educational Research Association Conference, and the North Carolina Sociological Association Conference.
Dr. Hopkins is committed to strengthening the Office of Student Engagement by rebuilding and rebranding the services offered. She is dedicated to cultivating and enhancing the student experience to ensure that FSU students can engage in a variety of social, cultural, and intellectual experiences that will transform their intrapersonal and interpersonal abilities.