Dr. LaDelle Olion to Receive W. E. B. Du Bois Award from Association of Social and Behavioral Scientists, Inc.
Date: January 25, 2019
LaDelle Olion, Ph.D., Professor of Special Education at Fayetteville State University, has been selected by the Association of Social and Behavioral Scientists, Inc. (ASBS) to receive its annual W. E. B. Du Bois Award. This award will be presented during the Association's 84th Awards Luncheon at noon on Friday, March 8, 2019 at the Ramada Plaza Bordeaux Convention Center located at 1707 Owen Drive. Dr. Olion will serve as the keynote speaker for the luncheon.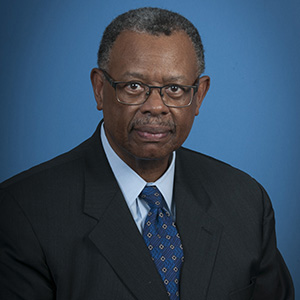 Dr. Olion earned the B.S. in Elementary and Special Education and the M.S. in Special Education, Mental Retardation at Southern Illinois University. He earned the Ph.D. in Educational Psychology at the University of Connecticut. Dr. Olion served as Dean of the Graduate School of Fayetteville State University for 21 years. He is the Editor-in-Chief of The Negro Educational Review, an international peer-reviewed journal, and Chair of the Moore Street Foundation Board. Dr. Olion has devoted much of his career to mentoring students and young adults, providing them with educational, research, and career opportunities. He is an active lifetime member of Omega Psi Phi Fraternity and a committed member of 100 Black Men of America, having served in numberous leadership positions on the local and national levels. Dr. Olion is a devoted member of the First Baptist Church on Moore Street, where he serves on the Laymen's League and Board of Trustees.
The W. E. B. Du Bois Award was introduced in 1970 to honor outstanding social and behavioral scientists and civic leaders who have made significant contributions to improve the lives of Black Americans. Past North Carolina award recipients include: The Honorable Justice Patricia Timmons-Goodson (2015); U.S. Congresswoman Alma S. Adams (2008); The Honorable Justice Henry E. Frye, former Chief Justice of the North Carolina Supreme Court (2002); and Dr. Dorothy Cowser Yancy, past President of Johnson C. Smith University (1996).
For additional information about the conference, to purchase luncheon tickets, and/or to place a congratulatory ad in the luncheon program, please call 910-551-6761 or email ASBSLAC@gmail.com.
Tags:
College of Education
News