Dr. Peter Eley Honored by UNC Board of Governors for Teaching Excellence
Date: April 20, 2020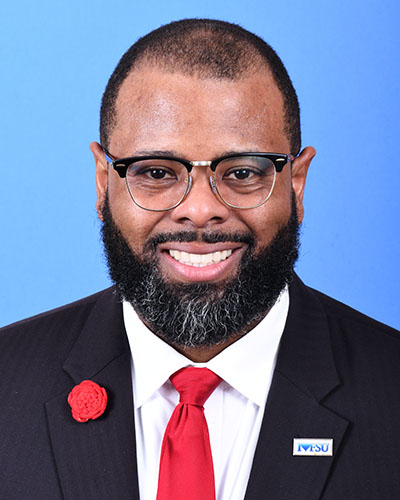 Dr. Peter Eley, a Professor of Mathematics Education and interim chair of the Department of Health, Physical and Secondary Education at Fayetteville State University (FSU), has been named a 2020 recipient University of North Carolina Board of Governors Award for Excellence in Teaching.
The UNC Board of Governors Award for Excellence in Teaching was established in 1993 and honors teaching and scholarship at the UNC System's 17 constituent institutions. The recipients were nominated by special committees at each institution and selected by the Board of Governors Committee on Educational Planning, Policies, and Programs.
Eley holds a Bachelor of Science in Mathematics from Elizabeth City State University, a master's degree in Applied Mathematics and Mathematics Education from North Carolina State University (NCSU), and a Ph.D. in Mathematics Education from NCSU.
A practitioner and leader in K-12 and higher education, Eley has served as a mathematics and science teacher in the middle and high school sector. His work as Data Manager/Webmaster for Saint Augustine University in Raleigh, NC was the gateway into the collegiate career space, serving as Mathematics and Science Education (NC-MSEN) Pre-College Program Coordinator at Winston-Salem State University and assistant professor at Fayetteville State University.
Eley's exceptional record has been acknowledged with awards and accolades over the years including Middle Grades, Secondary, and Specialized Subjects Professor of the Year and Fayetteville State University's College of Education Professor of the Year. The Wynton H. Hadley Teaching Award honoree was also selected as a Senior Research Fellow at the Massachusetts Institute for College and Career Readiness (MICCR), MassInc's Gateway Cities Innovation Institute (GCII), and the Rennie Center for Education Research & Policy. Eley has served as a Faculty Administrative Fellow at both Fayetteville State University and the University of North Carolina System.