Dr Peter Eley to Address Winter Commencement Graduates at North Carolina State University
Date: November 13, 2020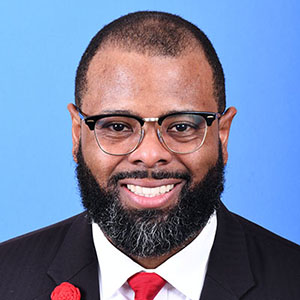 Dr. Peter Eley, Interim Chair & Professor in the Department of Health, Physical and Secondary Education at Fayetteville State University (FSU), will address graduate and undergraduate students at the North Carolina State University College of Sciences Mathematics Department fall 2020 graduation ceremony on December 3.
Eley is the 2020 UNC Board of Governors Teaching Award winner for FSU. Eley is a sought-after motivational speaker and he speaks to groups around the county. He uses storytelling, humor, and life experiences to engage audiences and inspire students.
Eley holds a Bachelor of Science in Mathematics from Elizabeth City State University, a master's degree in Applied Mathematics and Mathematics Education from North Carolina State University (NCSU), and a Ph.D. in Mathematics Education from NCSU.
A practitioner and leader in K-12 and higher education, Eley has served as a mathematics and science teacher in the middle and high school sector. His work as Data Manager/Webmaster for Saint Augustine University in Raleigh, NC was the gateway into the collegiate career space, serving as Mathematics and Science Education (NC-MSEN) Pre-College Program Coordinator at Winston-Salem State University and assistant professor at Fayetteville State University.
Eley's exceptional record has been acknowledged with awards and accolades over the years including Middle Grades, Secondary, and Specialized Subjects Professor of the Year and Fayetteville State University's College of Education Professor of the Year. The Wynton H. Hadley Teaching Award honoree was also selected as a Senior Research Fellow at the Massachusetts Institute for College and Career Readiness (MICCR), Mass Inc's Gateway Cities Innovation Institute (GCII), and the Rennie Center for Education Research & Policy. Eley has served as a Faculty Administrative Fellow at both Fayetteville State University and the University of North Carolina System.