Endowed Scholarship Fund Started by Local 100 Black Men Chapter
Date: September 15, 2020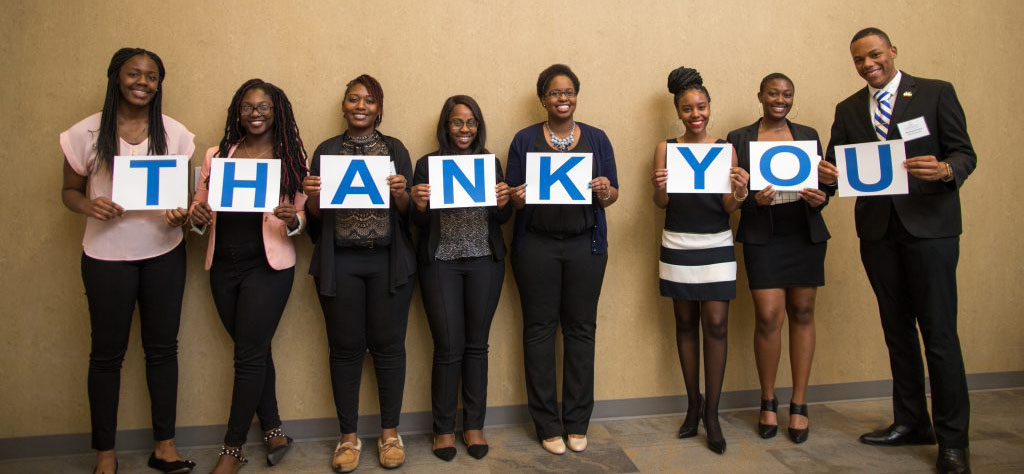 The 100 Black Men of the Cape Fear Region has pledged $25,000 for the establishment of an endowed scholarship at Fayetteville State University (FSU). The scholarship will be awarded to students based on financial need.
"One of the founding principles of our organization is to empower and educate young African-Americans, and what better way to do that than investing in their future," said John W. Smith, Jr. president of the 100 Black Men of the Cape Fear Region. "We believe that what they see is what they will be so, mentoring is what we do. Our chapter, established in 1998, is devoted to improving the quality of life for African American youth and communities through programs focusing on Educational Enrichment, Economic Empowerment, Leadership Development, Health and Wellness and Mentoring. It is our hope that one day the recipients of these scholarship dollars will follow the lead of our great organization by paying it forward and giving back and supporting the communities in which they live and work."
Interim Chancellor Peggy Valentine said that it's important for groups like the 100 Black Men of the Cape Fear Region to support education, and she is grateful to them for selecting FSU to establish their endowment."
The 100 Black Men have a national and international reputation for supporting their communities," Valentine said. "Their work is so far-reaching that they have established chapters for young men on college campuses, to include ours. That speaks volumes of the quality and importance of their work. I am so pleased and honored that they have made this financial commitment to Fayetteville State University and in its students."
Endowment gifts such as this go a long way towards ensuring the viability and continued success of institutions of higher education, particularly HBCUs (Historically Black Colleges and Universities), said Dr. Harriet Davis, Vice Chancellor for Institutional Advancement at FSU."
This gift is truly an investment in FSU and its future," Davis said. "I can't thank the 100 Black Men of the Cape Fear Region enough for recognizing the importance of a quality education and the life-changing affects it can have on our students."
About 100 Black Men
The initial idea for 100 Black Men of America was conceived in New York in 1963 by a group of African American professionals who wanted to improve the quality of life and economic opportunities for the black community by fostering better education and youth development. Elements of the organization's creed that date from this era ("e.g. no member shall be without transportation, no member shall be without legal representation, etc.") provide some insight into the challenges faced by many African American organizations during the height of the Civil Rights Movement of the early 1960s. Some of the early members were David Dinkins and Jackie Robinson.
By 1976 a separate chapter was formed in New Jersey and before 1987 other chapters formed in mostly major U.S. cities. Between 1983 and 1986 these chapters held several national conferences with the aim of forming a more official national organization. On May 27, 1987, 100 Black Men of America, Inc. held its first national conference in Atlanta, Georgia, with businessman Nathaniel Goldstien as its first president and chairman of the board.
In 1994, the organization established the Collegiate 100 as an auxiliary to its chapters throughout the nation. The Collegiate 100 is composed of only young men actively enrolled in college. The Collegiate 100 members provide support for the chapters as well as receive mentoring from chapter members.
In 2010, the organization established an auxiliary for young professional men known as the Emerging 100. The Emerging 100 focuses on recruitment and engagement of men between the ages of 22 and 35. Atlanta was the first city to establish an Emerging 100 auxiliary.