Endowed Scholarship To Benefit Social Work Students
Date: February 03, 2021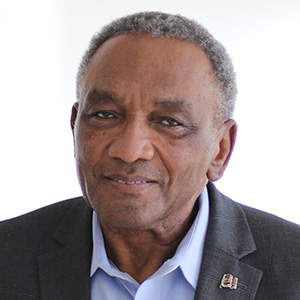 Endeavors, a non-profit organization with a national reputation, has chosen Fayetteville State University (FSU) as recipient for a scholarship aimed at assisting those in need. FSU has established the Major General Alfred K. Flowers Endowed Scholarship; the $25,000 endowment will support a scholarship for deserving undergraduate students.
To be eligible for the scholarship, students must meet the following criteria:
Be a deserving African American student who is a North Carolina resident, seeking a bachelor's degree in Sociology within FSU's College of Humanities and Social Sciences
Have a minimum 2.5 overall GPA
Seek a career in social work
Demonstrate a financial need as determined by the Office of Scholarship and Financial Aid
"Endeavors is honored to sponsor this scholarship named on behalf of Major General Flowers. He is a positive role model who continues to aspire for meaningful lives in service to others," said Jon Allman, Endeavors President and CEO."
Flowers is an author and senior strategic advisor for a San Antonio minority-owned business. He is the former Deputy Assistant Secretary of the Air Force for Budget where he was responsible for financial allocations of $170 billion dollars of Air Force funds.
Following high school graduation, Major General Flowers enlisted in the United States Air Force at the age of seventeen. After completing basic military training at Lackland Air Force Base (AFB) in San Antonio, Texas, he was assigned as a supply warehouseman at Grand Forks AFB in North Dakota, followed by a year at Da Nang AB, Vietnam (in addition to five other assignments prior to 1975). Flowers received his A.A. degree from Thomas Edison University, B.S. Degree from Southern Illinois University, and master's degrees from Ball State and The National Defense University. In 1978 after 13 years of enlisted service, Flowers attended Officer Training School where he became a distinguished graduate and commissioned a Second Lieutenant. He served as a budget officer at several Air Force bases; Chief of Budget at Headquarters Air Combat Command; Director of Budget Programs at HQ USAF; and Chief Financial Officer, HQ Air Education.
He is acknowledged for his duties in Training Command at The United States Special Operations Command, J-8. He Commanded the Holms Center at Maxwell AFB, Alabama, and The Second Air Force at Keesler AFB, Mississippi. In 2009, Flowers was appointed as The Deputy Assistant Secretary of budget in the Office of the Assistant Secretary of the Air Force. On January 1, 2012, after 46 years and five months of service, he retired from the United States Air Force, making him the longest-serving airman in Air Force history, the longest serving African American in defense history, and the longest serving continuous active-duty member in the history of The United States Department of Defense.
"The Endeavors scholarship at Fayetteville State University will make a lasting, permanent, and sustained impact by advocating for the educational advancement of black students in North Carolina," said Flowers.
Interim FSU Chancellor Peggy Valentine said the establishment of this endowed scholarship demonstrates Endeavors' commitment to students and the historical legacy of the university.
"I am so pleased that Endeavors selected FSU to not only establish this scholarship, but at the same time, grant us the opportunity to honor a great individual like Major Gen. Flowers," Valentine said. "I can't thank them enough for making this investment in the citizens of this region and in our students."
---
About Endeavors
Endeavors is a longstanding national nonprofit providing various programs and services supporting children, families, Veterans, and those struggling with mental illness, disabilities, disasters, or emergencies. Endeavors has served vulnerable people in need since 1969 through personalized services. For more information, please visit endeavors.org.