Fayetteville State University Faculty Members Present at Digital Learning Forum
Date: February 28, 2019
Drs. Kim Tran, associate professor of psychology; Bonnie Grohe, associate professor of criminal justice and director of Faculty Development and Online Education; and Chet Dilday, associate professor of social work at Fayetteville State University (FSU), presented information and lessons learned from two pilot programs utilizing Adaptive Learning Courseware at FSU.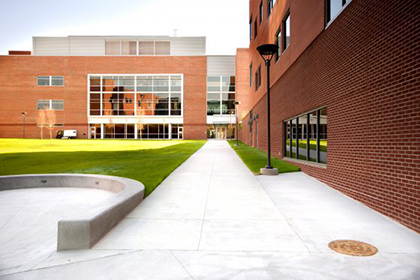 The presentation was made at the 2nd Annual Southeastern Digital Learning Forum at the University of North Carolina at Charlotte on February 8, 2019.

The purpose of the presentation was to share information and best practices that support teaching and learning related to the adoption of innovative Adaptive or Personalized Learning technology at FSU. It was also designed to learn about the various initiatives being undertaken at other institutions and the technology being used to advance those initiatives.

About Fayetteville State University
Fayetteville State University is a constituent institution of The University of North Carolina and the second-oldest public institution of higher education in the state, having been founded in 1867. FSU offers degrees at the baccalaureate, master's, and doctoral levels. With more than 6,300 students, Fayetteville State University is among the most diverse institutions in the nation. To learn more about Fayetteville State University, visit https://www.uncfsu.edu. Chancellor James A. Anderson is the 11th chief executive officer.
Tags:
College of Arts and Sciences
News