Father Honors Daughter's Success with Donation to the Department of Sociology
Date: August 14, 2019
Antonio R. Smith, Sr. LLC Consultant donated $6,200 to the Department of Sociology in appreciation for the mentoring, support, and guidance that his daughter, Avvette Smith, a 2018 graduate of the program received.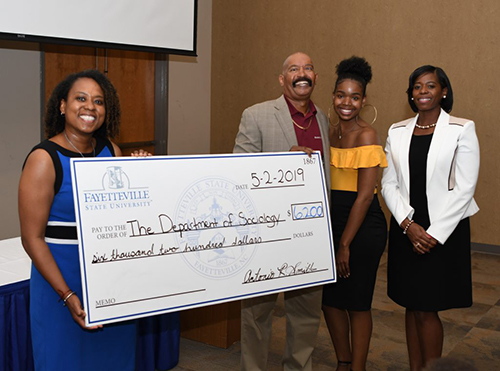 Mr. Smith is an accomplished leader, visionary, businessman, philanthropist, mentor, author, and inspirational speaker. For over three decades, Mr. Smith has excelled in various technical executive positions with IBM and DuPont. Mr. Smith has a long history of educational and social activism. This has been exemplified in his mentoring and philanthropic efforts to assist underserved students achieve their academic and professional goals.

The faculty in the Department of Sociology are dedicated to creating an engaging and supportive environment for its students. Ms. Smith's accomplishments within the Department and on campus were impressive and department is extremely grateful that Mr. Smith chose to recognize the Department's role in Ms. Smith's success through his generous donation.

About Fayetteville State University
Fayetteville State University is a constituent institution of The University of North Carolina System and the second-oldest public institution of higher education in the state, having been founded in 1867. FSU is a historically black university offering degrees at the baccalaureate, master's, and doctoral levels. With more than 6,300 students, Fayetteville State University is among the most diverse institutions in the nation. To learn more about Fayetteville State University, visit https://www.uncfsu.edu.