Fayetteville State Softball Predicted to Finish Second in the CIAA
Date: February 01, 2020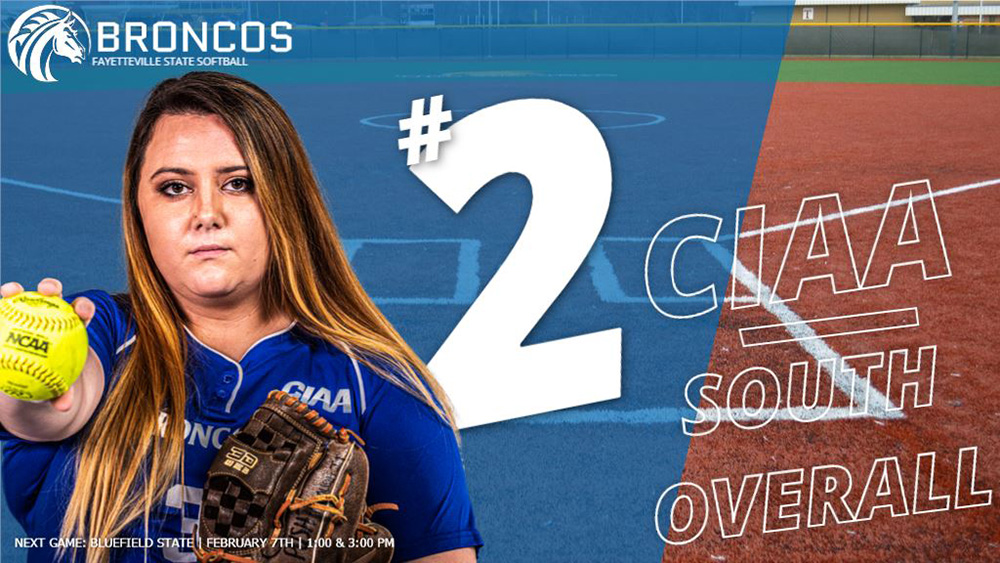 Charlotte, NC - The Central Intercollegiate Athletic Association (CIAA) announced the 2020 predicted order of finish as selected by the CIAA Softball Coaches Association and Fayetteville State University was projected second in the CIAA Southern Division and forecasted to tie with Bowie State University in the overall order of finish.
The Broncos finished the 2019 season 9-9 in conference play and 6-6 in the division. FSU qualified for the championship tournament where Fayetteville State defeated Elizabeth City State 9-0 in its second game before elimination.
Fayetteville State is expected to propel past the fourth-place divisional finish of last season to second-place behind Claflin; who is predicted to win it all. Johnson C. Smith sits in the third spot with Winston-Salem State, Shaw, Saint Augustine's, and Livingstone rounding out the rankings.
FSU will open the 2020 season on Friday, February 7th at home with a doubleheader against Bluefield State at 1 and 3 pm. All of Fayetteville State's home games will be played at the Lamon Street Park near downtown Fayetteville. The Broncos will return to action again on its home field on Sunday (Feb. 9) against Converse with a 2 and 4 pm doubleheader.
Head Coach Anthony Pearson will head into his second season at the helm with five returning Broncos. Junior pitcher Ashlyn Zook (Ottumwa, Iowa) has the most experience for FSU along with four sophomores. Mallory Carpenter (Emerald Isle, NC), Cheyene Ingram (Sanford, NC), Mikayla Jackson (Spring Lake, NC), and Grace Vincent (Durham, NC) played a lot of innings last season.
2020 CIAA Softball Predicted Order of Finish
1. Claflin
t2. Bowie State
t2. Fayetteville State
4. Elizabeth City State
5. Johnson C. Smith
6. Virginia State
7. Winston-Salem State
8. Virginia Union
t9. Shaw
t9. Lincoln (PA)
11. Saint Augustine's
12. Livingstone
Northern Division
1. Bowie State
2. Elizabeth City State
3. Virginia State
4. Virginia Union
5. Lincoln
Southern Division
1. Claflin
2. Fayetteville State
3. Johnson C. Smith
4. Winston-Salem State
5. Shaw
6. Saint Augustine's
7. Livingstone